Document processing is an essential part of digital transformation for any organization. The advent of artificial intelligence has transformed the way businesses deal with data. Today, with the ability of AI data can be easily read, categorized, converted and processed, allowing companies to generate better data analysis.
What is document processing?
In simple words, document processing is the process of converting unstructured data into structured data. The structured data can then be used for further analysis.
328.77 million terabytes of data are created daily, and companies deal with data daily. Unfortunately, paper-based documents are still being used which makes it challenging to convert manually. Some of the most common documents that need processing are:
Invoices
Receipts
Contracts
Emails
ID cards
Manual document processing is not feasible anymore
Processing data is essential for any business as it impacts key decisions and helps understand customers. When documents are processed manually, there's room for errors that affect data accuracy.
It is a tedious process that requires many resources and thus, increases business costs.
In order to mitigate those challenges, more companies are embracing intelligent document processing tools to automate this process.
The use of AI in document processing
Intelligent document processing (IDP). refers to the extraction of text from documents using artificial intelligence. The adoption of AI has increased by up to 60% in the past few years.
One of the key areas where AI has made a significant impact is optical character recognition (OCR). OCR technology enables the conversion of printed or handwritten text into machine-encoded text, making it searchable and editable. Traditional OCR systems had limitations and often struggled with complex layouts, handwriting, and poor quality documents.
AI has given rise to unlimited IDP tools on the market that accelerate digital transformation.
Benefits of AI in document processing
Integrating AI as part of document processing will be an invaluable asset to your organization. It can boost efficiency and productivity. Let's take a look at the main benefits of document AI.
Manual tasks are automated
This is probably one of the biggest advantages of using intelligent document processing software. manual data entry is time consuming, tedious and boring. Having an automated workflow in place will get things moving quickly.
Your employees can focus on more productive tasks
AI does the heavy lifting and by automating repetitive tasks, employees have more time to think strategically. For example, a real estate agent will have more time to close real estate deals and build meaningful relationships with potential buyers.
Human errors are avoided
Mistakes are bound to happen when processing documents manually and document AI helps to mitigate those errors. With algorithms such as deep learning or machine learning, data accuracy is on point.
A Gartner research found that reworking can take up to 30% of a full-time employee's time.
Use cases of AI-based document processing
With many companies moving towards a paperless society, AI document automation is the way to make it happen.
Financial services
Some banks and financial institutions are still using paper and PDF forms for the opening of accounts or loan applications. The following tasks can be automated:
Customer onboarding
Financial reporting
Cheque image processing
Insurance
Claim forms are still paper-based and can sometimes contain incorrect information. Many manual processes can be streamlined such as:
Claim processing
Contract review
Real estate
Real estate agencies receive real estate leads from different sources in different formats. Going through all those emails and retrieving key information such as property details or buyer's information is time-consuming.
Extracting those leads. and sending them to a real estate CRM automatically saves time and money.
Parseur: A leading AI document processing tool
Parseur is an intelligent document processing tool that is integrated with AI OCR for faster and accurate processing. Parseur has a template-based extraction platform that requires no coding knowledge.
It has built-in templates for different industries such as food delivery, job search, Google Alerts, among others.
Compare Parseur to other IDP tools in 2023
How does AI-based document processing work?
In three simple steps, you can create an automated workflow with Parseur. The IDP solution has a free plan where you can create your account and get access to all the features.
Step 1: Create a Parseur mailbox
Choose any mailbox as per your use case requirements. You can also create a custom mailbox.
Drag and drop one of your documents into the mailbox.
Step 2: The document will be processed automatically
If you've chosen to create a custom template, just highlight the data that you want to extract and create data fields for it. Parseur is also integrated with Zonal OCR and Dynamic OCR to ensure a high level of accuracy.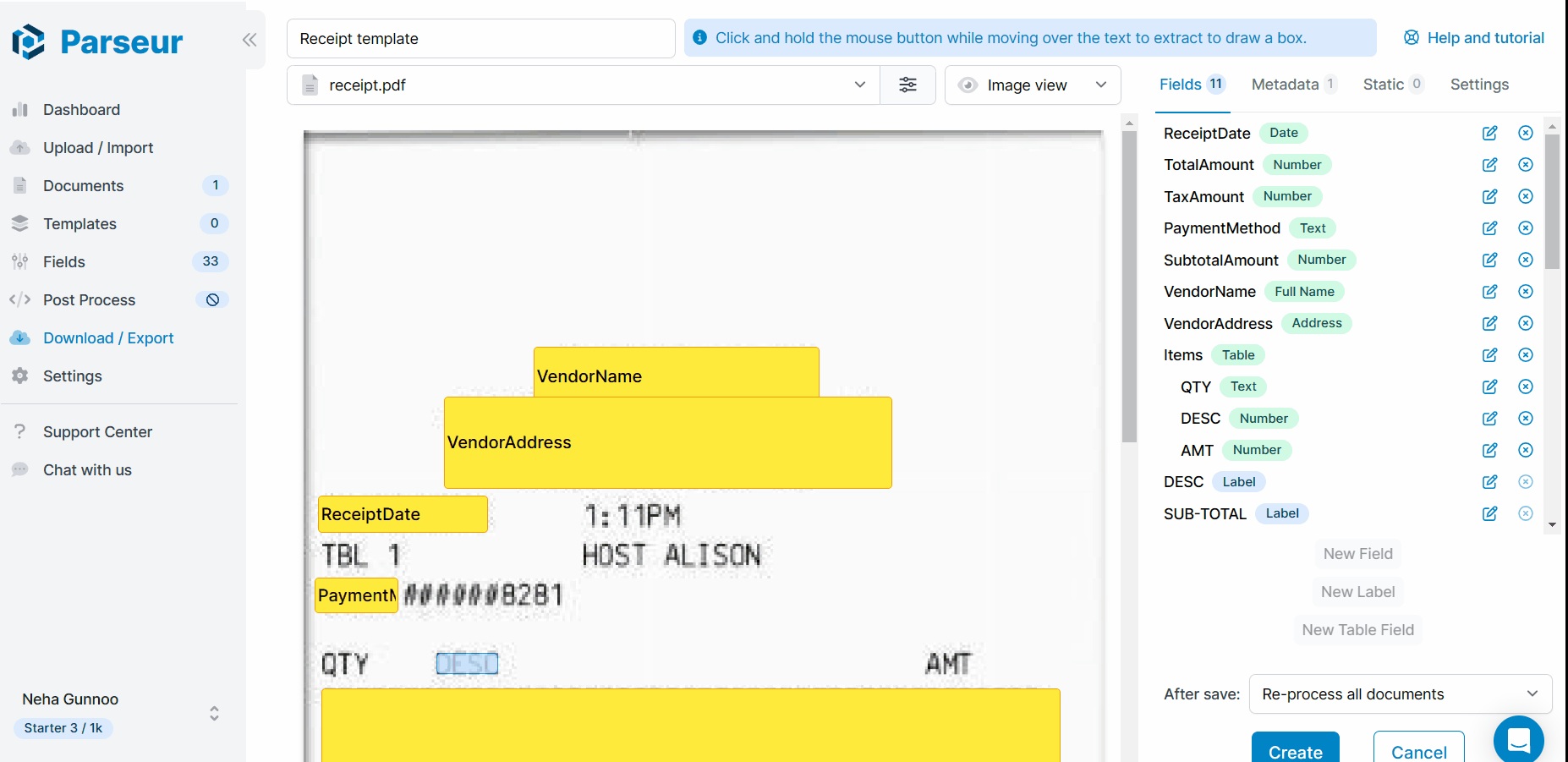 Step 3: Integrate Parseur with other applications
Parseur connects seamlessly with thousands of tools so that you can send data to them. You can use Zapier, Make or Power Automate to export data to any application of your choice.
Future Trends
The introduction of AI in document processing has transformed the field by improving accuracy, efficiency, and productivity. It has enabled organizations to streamline their document management processes, reduce manual labor, and make better use of data.
Further reading: Automate PDF extraction with AI