Send Data Extracted from Emails and PDFs to Make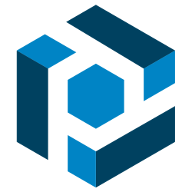 Pair Make with Parseur to create automated workflows that can extract data from emails and PDFs, and send the parsed data to the application of your choice!
In this integration article, we will cover the following topics:
How to extract data from emails and PDFs with Parseur
How to send data extracted from documents to Make
How to integrate Make with Notion
What is Make?
Make is an automation tool to set up workflows between several applications with zero coding knowledge. The platform is intuitive and easy to use. Make helps you automate all your business processes so that you can focus on delivering quality service to your customers instead of wasting your time on repetitive and manual tasks.
In a press release in BusinessWire (February 2022), the CEO of Make Ondřej Gazda explained how they realized that their customers aren't users, but rather makers.
Some of Make's prominent features include:
Drag and drop interface
Integration with thousands of applications
Real-time data
Visual interface
Zero coding knowledge
How does Make work?
Make works by triggering a scenario (a connection between applications when a certain condition occurs). A scenario consists of modules and connections between them. Each module serves as a building block and performs specific actions such as adding or deleting data in a spreadsheet and sending an email. You combine the modules into scenarios and tell Make how the data should travel through the scenario.
Make also has predefined templates which you can use to create your scenarios.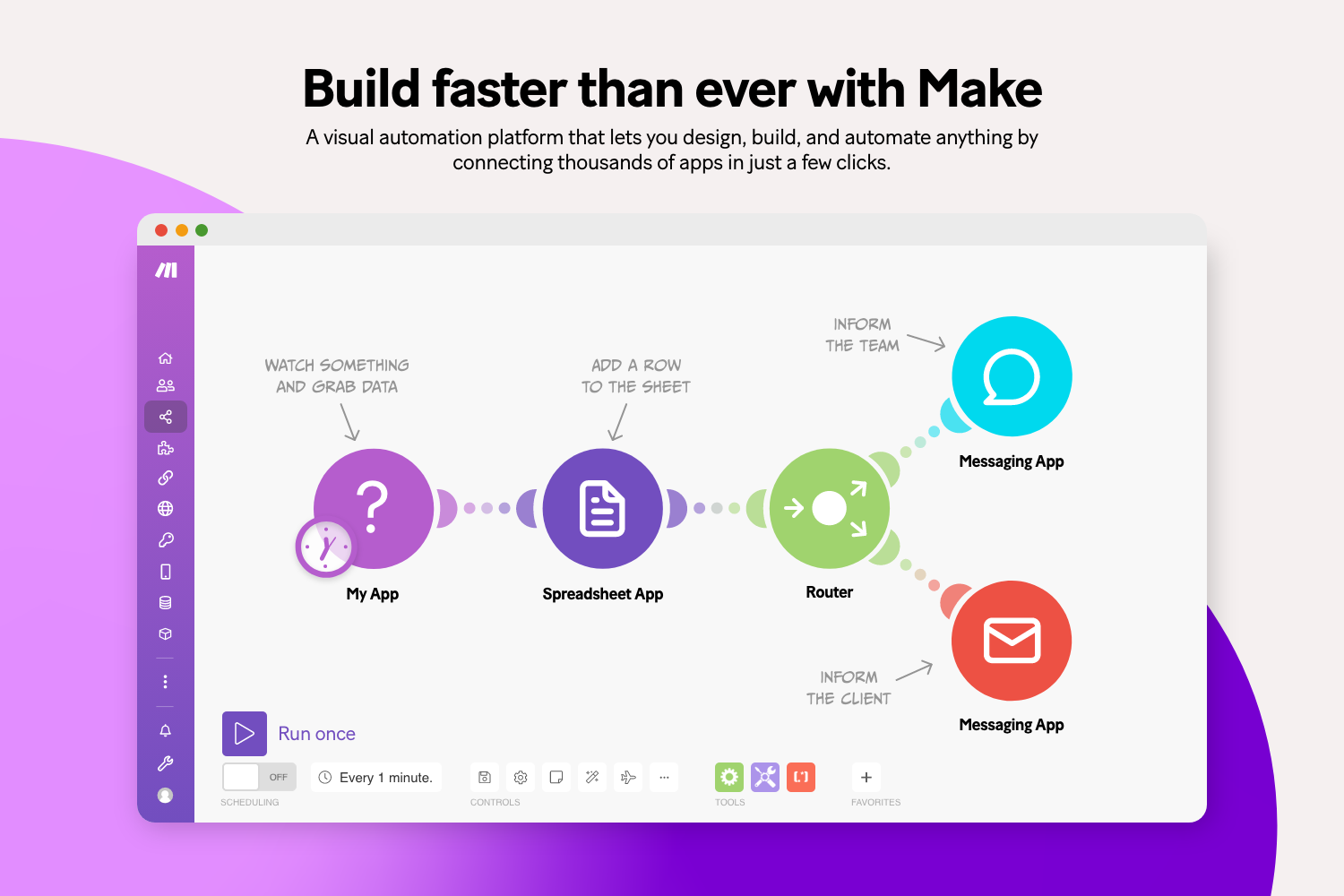 Understanding the common jargon used by Make:
Scenario: the workflow process to connect two or more applications
Module: adds a new step
Trigger: starts the action
Action: performs the required tasks
If you are looking to make simple workflows, then Zapier or IFTTT are your go-to tools. But, if you want to do advanced integrations in a simpler way, then keep reading this article!
Automate your business with Parseur and Make
Parseur is a powerful email parsing and PDF parsing tool that automates the data extraction from documents automatically. Parseur can send parsed data to (and receive documents from) hundreds of applications through Make.
Make is one of our users' favorite automation tools to create workflows to send data from Parseur to another application.
Our happy customers use this powerful integration to:
How does this parsed document data to Make work?
The integration can be summarized in 3 main steps as follows:
A new document or email is received in your Parseur mailbox
Parseur extracts the data and sends the parsed data to Make
Make processes the data and sends it to any application(s) of your choice
Use case: Create a database item in Notion from parsed email data from Google Alerts
We will take an example to show you the step-by-step integration between Parseur and Make. Let's say that you have an online book club to manage and you are a big fan of Harry Potter. You created Google Alerts for the keyword "Harry Potter" so that you can curate the best content on the web and share it with your book club.
You have a Notion board where you post all the articles to later decide on which date you will share which article. Manually filtering the right content is time-consuming (you could be reading the Harry Potter series instead!).
Note: This is just one example. There are countless workflows that you can create with Parseur and Make.
To use this integration, you will need:
A Parseur account with a configured mailbox
Your Notion account
Step 1: Create your free Parseur mailbox to receive your Google Alerts
Parseur is forever free for a limited number of emails sent per month, with all features enabled.
Once your account has been created, you will be prompted to create your Parseur mailbox. Choose Google alerts for the mailbox type.
Step 2: Forward the search alerts to your Parseur mailbox
We recommend that you forward all your documents from the original client email (Gmail, Outlook, Yahoo).
You can also create an auto-forwarding rule that each time you receive a Google alert, it goes straight to the Parseur app.
Step 3: The data is extracted automatically
Since Parseur has a ready-made template for Google alerts, the email will be processed automatically (as shown in the gif below).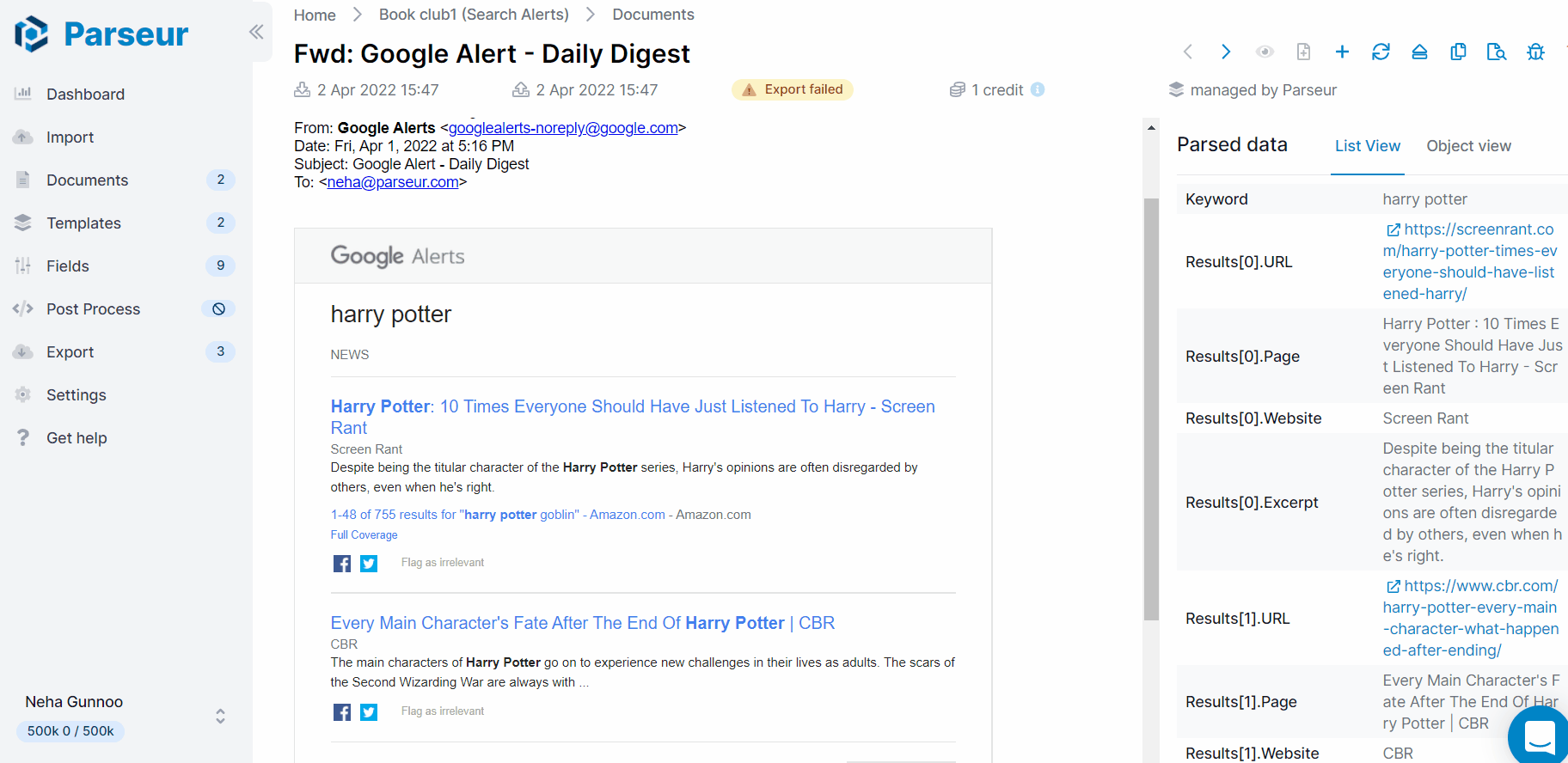 Parseur has a built-in library of templates for specific industries such as real estate, job search, or food ordering
However, if you need to create a custom template, this can be done very quickly by highlighting the data fields you need and teaching Parseur what to extract.
Step 4: Export the parsed data to Make
Parseur has a native integration with Make. All you have to do is click on "export", "Make/Integromat" and "new scenario". This will redirect you to your Make account to create the new scenario.
Set up Parseur as a trigger module in Make
Add Parseur as a module so that it can generate a custom URL to retrieve the parsed data. Add the connection and API key which can be found under your account and select the right mailbox.
Once you receive the custom URL, copy and paste it into the Parseur app under "webhook" and, "new webhook".
It will appear as "active" under "Make"
Add Notion as an action module in Make
The next step would be to add Notion as a module so as to map the parsed data to the Notion board. Click on the (+) to add the next module and search for Notion. The dotted line between Parseur and Notion is called a filter. Select the Notion account and the database ID from the list. Once done, you can now run the scenario once.
Note: If this is the first time you are integrating Notion with Make, you will need to "allow access" when prompted.
Don't forget to re-process the document so that it can trigger the action from your Parseur mailbox.
In the event that the scenario wasn't executed properly, Make will already let you know about it in the log details.
Step 5: Check the Notion board
Verify if the data has been sent correctly to the Notion page.
And that's it! You now have an automated workflow set up. Each time the Parseur mailbox receives a Google alert, it will be processed and sent automatically to Notion.
As mentioned before in this article, this is just one of many examples to show you how integration works. With the integration of Parseur and Make, you can set up as many workflows as you'd like and export data to any application you want.
Review from happy customers
"Webhook is in make.com and then run my scenario and automated create invoices to my economy app. It works perfectly. The support is really quick and helps me with regex." - Shifra
What is Parseur?
Parseur is a powerful document processing software to extract text from emails, PDFs and documents and automate your workflow. All Parseur features.
What is Make?
Make is the new no-code platform for building workflows and integrating applications together. It is one of the most advanced platforms which helps to build complex workflows in an easy way. More about Make.