In this post, we will discuss the differences and similarities between Nanonets and Parseur, helping businesses make an informed decision about which is the best choice for their document extraction and automation needs.
PDF extraction is a key component of many businesses, as it allows organizations to quickly and effectively access the information they need to make key decisions. On top of that, optical character recognition (OCR) technology has revolutionized the data extraction process.
Parseur VS Nanonets: Comparison Table
Before we get into more details about both software, we have summarized the main differences in the table below.
Engine
AI

Template based

Point & Click

Number of mailbox/model
Varies by plan
Unlimited
Number of fields
Varies by plan
Unlimited
Table parsing
Yes, Pro plan only
Yes, all plans
Ready-made field sets
Yes
Yes
Metadata parsing
Yes, some
Yes, many
Automatic parsing
Yes by AI
Yes, hundreds of layouts supported
Non-english document parsing
Yes, results may vary
Yes, supports languages and alphabets
Zonal OCR
No
Yes
Dynamic OCR
No
Yes
AI OCR
Yes
No
Email parsing
Yes
Yes
Parse any documents
Possible after extensive training
Yes, immediately
Fix incorrectly captured data
Yes, need to fully re-train the model
Yes, in a few clicks with visual debugger
Integrations

Download

Webhook

Zapier

Google Sheets




Make

Download

Webhook

Zapier

Google Sheets

Power Automate

Make

API
Yes
Yes
Why do you need a PDF parser?
A PDF parser is a software that extracts data from PDFs and parses it into a structured format. This makes it easier for businesses to analyze the data, edit it, and export it to other formats.
With a PDF parsing tool, you can easily extract text and images from PDF documents and data from tables.
A PDF parser helps to automate manual data entry processes and enables businesses to be more efficient in their workflows.
How does Nanonets work?
Founded in 2017 and headquartered in San Francisco, Nanonets is an intelligent document processing software that extracts and processes data from multiple documents such as:
Passports
IDs
Invoices
Receipts
Driving licenses
Nanonets uses artificial intelligence (AI) and OCR models to eliminate manual data entry.
Automatic layout parsing
Nanonets has ready-made models for different types of documents such as purchase orders or bills of lading.
You can either upload your PDF directly to the Nanonets app, send it via email or copy it from Google Drive. Let's say you want to capture invoice data, click on "invoices" and drag & drop the invoice and Nanonets will extract the data automatically.
However, the free plan has limited fields.
If you notice any red flags, check the preset rules of the model. The conditions for the data fields can be changed or deleted.
Note: Table parsing is not available on the free plan.
Once the template is approved, you can download the parsed data or export it to any other application.
Building your own extractor
If you have documents that Nanonets cannot parse using their existing models, you can create custom parsers by training the AI model. A minimum of 10 documents is required to train the model. Once you've uploaded 10 PDF invoices, the next step is to create the labels (data fields). For example, if you want the model to extract the invoice number, then "invoice_number" would be a label.
Sadly, on the free plan, you can only create five labels, which is often too limited for a real-world use case.
Once you've created your labels, you have to visually annotate each of your 10 or more samples with the labels to teach the AI model. As you can imagine, this is quite time-consuming.
Once the annotation of all samples is completed, it will take around 30-40 minutes for the model to be ready, and you'll receive the confirmation via email.
Once your AI model is complete, all the documents that will be sent to this mailbox will be automatically parsed.
Other features of Nanonets
Nanonets offers other features such as:
You can set up a workflow process directly into the application.
Nanonets can efficiently extract data from documents in different languages.
On the enterprise plan, you can have features like QR code detection, signature detection, and custom integrations.
Pricing
Nanonets is quite expensive. They have a starter plan for limited documents and then, you pay as you grow. In their Pro plan, Nanonets charges $0.1/page with a minimum of $499.
Moreover, you are billed per model, which means that if you want to parse two types of documents (e.g. invoices and bank statements), you'll need to pay a minimum of $499 twice per month.
What you need to know before choosing an AI OCR tool
AI OCR is great when its machine learning model is trained well and does exactly what you want. You upload a new document that the tool has never seen before, and a few minutes later, you get your data with all data points included and accurately captured. It's a bit like magic!
But AI OCR can also be seen as a black box. Because of the probabilistic nature of AI, you cannot be 100% certain the data will always be captured as expected. So you need to add checks and data validation steps to ensure your data extraction pipeline runs smoothly. Many AI OCR tools recommend that you implement a "human-in-the-loop" process to make sure the extracted data is correct. This, of course, will add to the running costs of an already expensive tool.
The most common issue with AI OCR-based tools like Nanonets is that they will sometimes miss some data points in documents. When that happens, you will usually be able to correct the data manually. But if you want to make sure the issue doesn't reappear, you will need to retrain your model, which can take hours. And after that, you cannot even be certain your model will work better for a similar document.
Lastly, in the case of Nanonets, as far as we understand, you are not able to improve and retrain their base models. If you want to customize a model, you will need to create a blank custom model and train it from scratch, uploading and annotating dozens of samples.
We, at Parseur, don't like black boxes. We decided we would build a tool that is easy to understand, fast to troubleshoot, and reliable once set up.
Parseur: Nanonets alternative in 2023
Parseur is a point-and-click PDF parser with a fast and accurate OCR engine that uses cutting-edge AI and machine learning algorithms for data extraction. Parseur also doubles as an email parsing tool where it can extract data from emails effectively.
Parseur goes beyond basic OCR by introducing Dynamic OCR which is more advanced than Zonal OCR.
With Parseur's free plan, you have access to all the features for a limited amount of documents.
Automatic layout detection
Parseur is a template based extraction tool. You can create as many templates as you have layouts. Parseur will automatically pick up the right one each time it receives a document.
Parseur is a template-based extraction tool with automatic layout detection
Built-in library of templates
Zero template parsing! This means that for industries such as real estate, food ordering, or Google Alerts data will be processed automatically with zero manual intervention.
Parseur supports automatic parsing from hundreds of providers out of the box
Zonal OCR
Using Zonal OCR with Parseur, you can easily convert unstructured data to structured data by extracting data at specific zones in a document. It's easy to setup and you'll have full control over the engine.
Extract text from specific zones with Zonal OCR
Dynamic OCR
Zonal OCR only captures data from a fixed position and if you have a field that moves up and down across documents, the software won't be able to extract the data accurately. With Dynamic OCR, data fields that move dynamically or change size can be easily captured.
Dynamically adapt to moving fields with Dynamic OCR
Learn more about Dynamic OCR with Parseur
Table parsing
Parseur reliably extracts table data from PDFs in a few clicks. It's done leveraging Dynamic OCR by simply creating a table field and assigning start and end labels to tell the tool where the table starts and stops.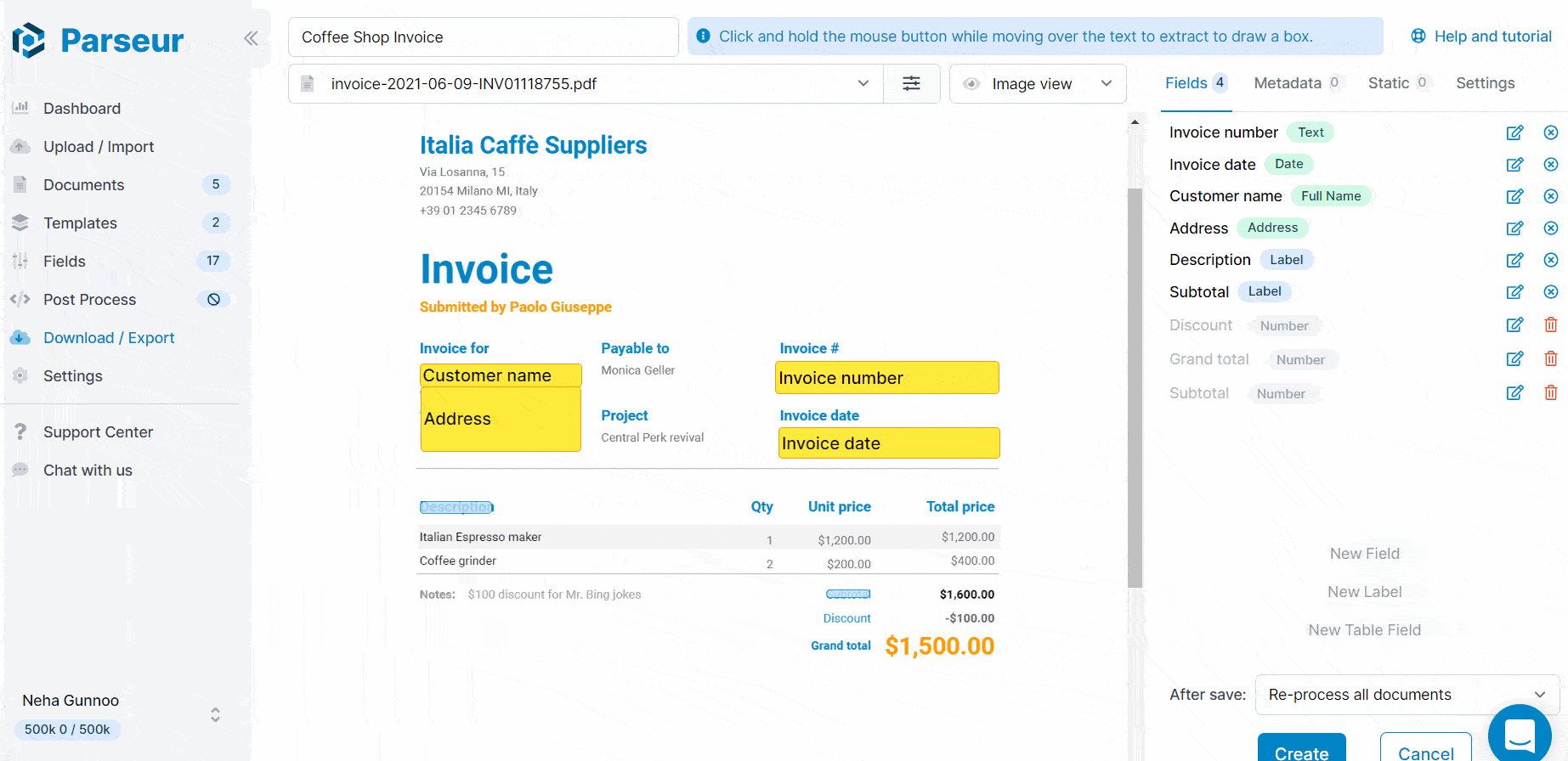 Integrates with thousands of applications and APIs
Parseur has native integrations with Zapier, Make (formerly Integromat), Power Automate where you can send the extracted data to any application of your choice.
You can also create custom Webhooks and send the data back to your servers. For example, you can use it as a DoorDash API for your food delivery process.
Other features of Parseur
Documents supported: Microsoft Word, Email, Spreadsheet, HTML, Text, RTF
Data normalization: Numbers, dates or addresses are normalized in consistent formats.
Advanced post processing (available on the pro plan only): You can write advanced code using Python for further data manipulations.
Web page parsing: Parseur can extract data from a webpage URL.
Notifications: You can be notified by email or webhook whenever a document fails to parse.
Data retention policy: For privacy purposes, you can set a policy that will delete all the documents after a specific time.
GDPR compliant: Parseur is fully compliant with GDPR and uses the best security practices.
Pricing
Parseur has a free plan with all the features available and is less expensive than Nanonets. Our smallest plan starts at $39/mo with progressive reduction of the cost per page. Our $299 plan is already 3x cheaper than nanonets per page and you get further discounts are your volume grows.
You can create unlimited mailboxes to parse different documents on the same paid plan compared to Nanonets where the price is per models.