If you found this article, it means that you were searching for a Docparser alternative. Don't get us wrong - we believe Docparser is an amazing tool. However, it may not fit all your requirements.
In this detailed comparison guide, we are going to look at both the similarities and differences between Docparser and Parseur.
By the end of this article, you will make the right choice by choosing a PDF parser that will fit your business needs.
Parseur Vs Docparser: Comparison Table
We've summarized the differences between Parseur and Docparser in the table below before we go into more detail.
Engine
Rule-based

Template-based

Point & Click

Field visualization
Only when creating
Yes, at all times
Multi-layout support
Yes, with rules
Yes, automatic
Metadata parsing
Yes, with rules
Yes, Point & Click
Table parsing
Yes, with rules
Yes, Point & Click
Ready-made field sets
Yes
Yes
Automatic parsing
Some
Yes, hundreds of layouts supported
Zonal OCR
Yes
Yes
Dynamic OCR
No
Yes
Email parsing
Yes
Yes
Documents supported

PDF

Microsoft Word

Email

Spreadsheet

HTML

Text

RTF

Integrations

Download

Webhook

Zapier

Google Sheets

Power Automate

Make

Download

Webhook

Zapier

Google Sheets

Power Automate

Make

API
Yes
Yes
What is a PDF parser?
In simple terms, a PDF parsing software extracts data from PDFs. It automates the data extraction from documents and the parsed data can either be downloaded or exported to another application.
Some PDF parsers require coding knowledge while others are no-code tools.
PDFs come in different layouts and formats such as scanned PDFs or images. Manual extraction can be time-consuming and tedious, especially if you have hundreds of documents to go through.
A PDF parsing tool helps businesses create an automated workflow and thus, save time and money.
How does Docparser work?
Founded in 2017, Docparser is a document parser and the sister company of Mailparser. Docparser uses Zonal OCR and anchors keywords to automate data extraction from documents.
Compare Parseur with Mailparser
Automatic Layout Parsing
Docparser has different templates, such as invoices, bank statements, or bills of lading, that are parsed automatically. If you upload a specific document, such as an invoice, it will be parsed automatically.
However, as you can see in the above screenshot, the prices haven't been parsed correctly. You will need to create custom parsing rules to ensure that the data is extracted correctly.
You can tweak the templates as per your needs as their custom parsing rules are tailored to many use cases.
Creating rules using Zonal OCR
Docparser uses Optical Character Recognition (OCR) to convert an image or PDF into machine-readable text and then uses Zonal OCR to identify specific data fields from within the text. For that, you'll need to create parsing rules.
If you want to extract rows and columns, then you'd need to create rules for "Table data".
You'll have to separate each column using the indicators provided. Once you've aligned your table, the document will be parsed.
However, if you need to parse other data on the document, you'll have to create other custom rules, such as "Text variable position".
Additionally, Docparser provides a resources section within the app to help users in case they are stuck on something.
Features of Docparser
Besides the two key features highlighted above, Docparser has other features, such as:
Smart filters for invoice processing
Advanced image pre-processing
Built-in barcode and QR code scanning
Integration with hundreds of cloud applications
Even though Docparser is a powerful data capture software, it requires a learning curve, especially if you are not tech-savvy and want to create custom parsing rules.
Also, Docparser can be a complex tool, particularly if you are unfamiliar with OCR or data extraction techniques. It may require some time and effort to learn how to use the tool effectively and to set up custom extraction rules.
While Docparser allows you to define custom extraction rules, the tool may not offer the level of customization you need if you have particular data extraction requirements.
Docparser is a subscription-based tool, and the cost can add up if you need to extract data from many documents.
Parseur: A Docparser Alternative
Parseur is a powerful PDF parsing tool with a robust OCR engine that automates manual data entry extraction from documents. Like Docparser, Parseur uses Zonal OCR to extract data effectively. However, Parseur goes one step further by introducing Dynamic OCR for more advanced data extraction.
Try Parseur Today
Having a powerful email parsing tool can help you automate your business, saving you countless hours of manual work.
Visual template editor
Parseur has an easy-to-use point-and-click editor where you can highlight the information that you want to extract and create data fields for them.
Automating data capture from documents in Parseur is as easy as point and click.
Ready-made templates
The data parsing tool also has a built-in library of templates for specific use cases, and those documents are parsed automatically:
Parseur supports automatic parsing from hundreds of providers out of the box.
Automatic multi-layout parsing
Parseur uses machine learning to quickly identify which template to use for a specific document. Each time the mailbox receives a PDF, it will automatically pick up the right template for it. You don't have to create a single invoice per layout and add manual rules, which is also a major feature highlight of Parseur. Some of our customers parse documents with hundreds of various layouts in a single mailbox.
Automatic multi-layout parsing with Parseur.
Table parsing
Extract tables and repetitive data using our point-and-click editor, with zero table parsing rules. You just need to create your table field and create data fields accordingly. Even if it is a complex table extraction, Parseur will ensure that all of the table data is parsed accurately.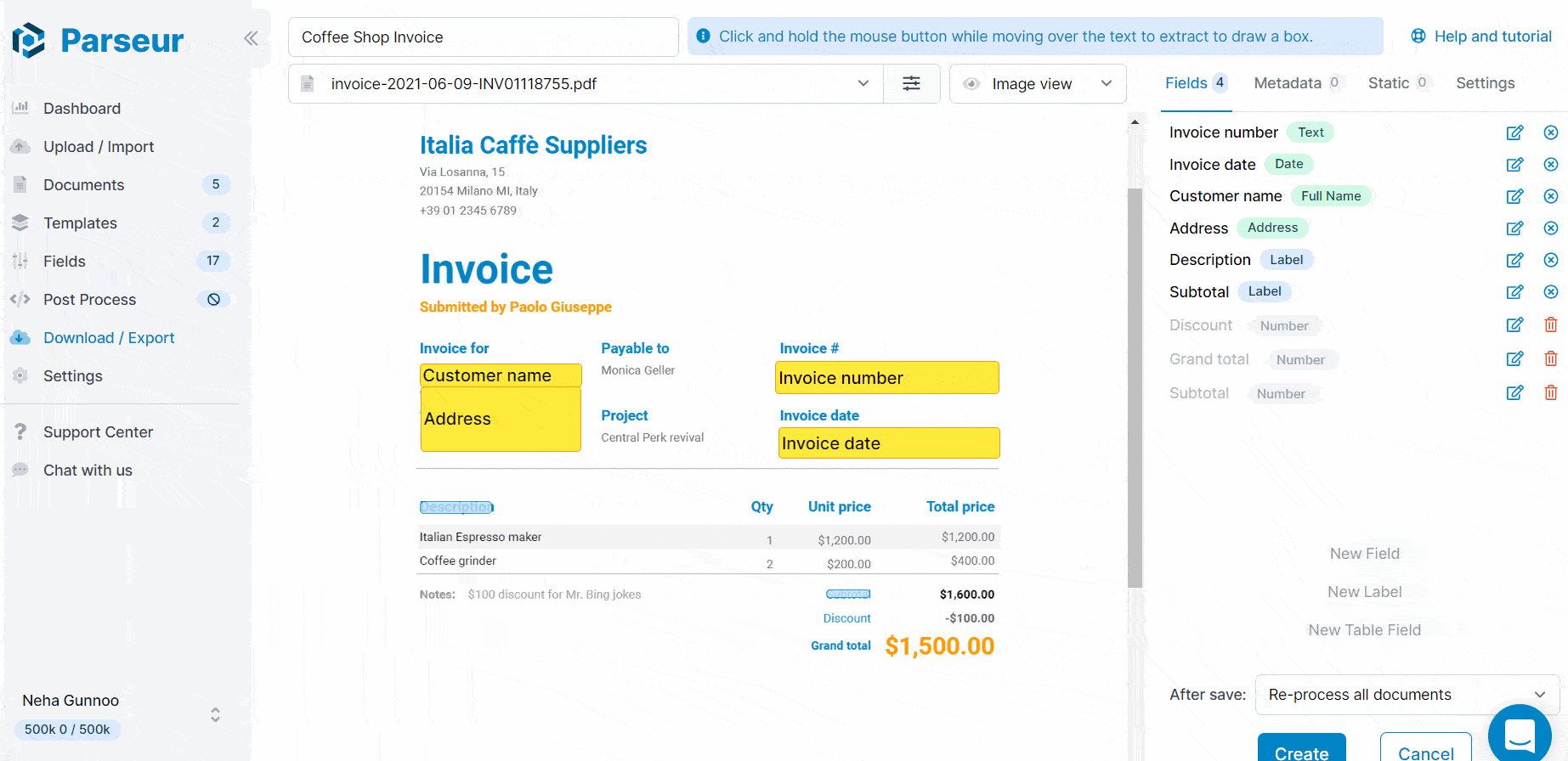 Zonal OCR
With Zonal OCR, you can extract data from different "zones" located in a document. Using Zonal OCR with Parseur is intuitive and does not require parsing rules.
Extract text from specific zones with Zonal OCR.
Introducing Parseur's Dynamic OCR
Zonal OCR is a great technique but if you have a field that moves around a document, it may not be able to capture the data correctly. Dynamic OCR is one step further with intelligent capabilities; it can easily extract fields that move vertically or horizontally across a document. This is a major advantage of Parseur compared to Docparser!
Dynamically adapt to moving fields with Dynamic OCR.
Other Parseur highlights
Email parsing: Parseur is also an email parser that extracts text and data from email messages. This can be useful for extracting data from customer inquiries or orders.

Data normalization: Normalize addresses and numbers using different meta fields.

Advanced post-processing: Write Python code for advanced manipulations.

Metadata parsing: Metadata, such as 'From', 'To', 'CC', 'BCC' fields, are easily parsed as well.

Chat support: Our team is here to support you in case you have questions, or if any issue arises.

Switched From: mailparser.io and Docparser

Reasons for Switching to Parseur: I was struggling to make some things work, and the support folk, though responsive and friendly, were not able to offer me a solution.

– Brett L. , CameraStuff