OCR stands for Optical Character Recognition and is the identification of text from images and documents. Using an OCR tool in your business helps to save time and resources, resulting in an increase of revenue.
The global OCR market is expected to grow at a compound annual growth rate (CAGR) of 14.8% from 2023 to 2030.
This in-depth guide about OCR will help you better understand the technology, its benefits and the best OCR software available on the market.
What is an OCR software?
A human and a computer do not interpret text and digital images in the same way. As humans, we just see alphabets and letters but computers see them in binary format (0s and 1s).
An OCR technology will convert those binary numbers into machine-readable format (Text, JSON, HTML). In this way, OCR can be used to extract text from images and PDF files automatically. The modern AI OCR technologies make use of machine learning and artificial intelligence (AI) to better understand the handwritten text and different languages as well.
History of OCR
The history of OCR dates back to World War I when physicist, Emanuel Goldberg invented the machine that could read and convert characters in telegraph code. It was called the "Statistical machine" which was later acquired by IBM.
In the 1970s, Ray Kurzweil developed the first Omni-font OCR which could recognize any type of font. And, as from the year 2000, OCR tools became easily available and accessible on the cloud, desktop, and mobile-based applications. Nowadays, OCR can even recognise handwritten text quite reliably such as reading addresses on physical emails or cheques.
How does OCR work?
There are 3 stages in the OCR process namely:
Image pre-processing
Character recognition
Post-processing
Image pre-processing
Before the OCR software can do its magic, it's important to ensure that the accuracy and quality of the scanned documents or image files are up to the level. This is where image pre-processing comes into play. Several techniques are used in this first step such as:
Noise removal
Skew correction
Rescaling
All those methods help to improve the quality of the input.
Character recognition
This process uses AI to identify and analyze the characters within an image (intelligent character recognition: IDR). There are two methods that can be used:
Pattern recognition where a range of text formats are used to train the AI. It can then compare the letters and matches them correctly.
Feature recognition is rule-based and is focused on specific characteristics; for example, curved lines.
Post-processing
The last step involves improving the accuracy of the data by correcting the errors. When training the Machine Learning algorithm, the AI is taught about what the final outcome should look like. Thus, the program can compare and verify whether everything is within the standard vocabulary and language data and correct accordingly.
OCR is heavily dependent on the underlying alphabet (Latin or Arabic or Chinese for example). But the best OCR platforms are also heavily trained on specific languages in order to provide the best accurate results. Nowadays the best OCR is done for documents in English, but other languages are catching up very fast.
The benefits of optical character recognition
While the main benefit of OCR remains that it automates data extraction effortlessly, there are other benefits that an OCR online tool can bring to your business such as:
Reducing costs
Saving time and resources
Automating business processes
Securing data properly
Main OCR use cases
AI OCR is widely used to read and extract data from invoices, medical records, bank statements, and receipts.
OCR in finance
In the finance and accounting sector, OCR software is used to capture text and numbers from invoices, receipts, digital documents and verify paperwork for financial transactions. This process helps to ensure that data is accurate and secure.
OCR in healthcare
AI OCR is used in healthcare to process hospital and patient records effectively and reduce the manual data entry work of healthcare workers.
What are the best and free OCR software?
There are different types of OCR software today; some of which are specific to a language or a business domain. In the below list, you'll find the OCR tools which are mostly used nowadays.
1. Parseur OCR
OCR online is only the first step of an end-to-end document processing workflow. Most businesses not only want to be able to read the text from their incoming documents using OCR, but they also need to extract specific data points that can fed into their systems. For example, an accounting department needs to extract text from their supplier invoices but also automatically recognize the supplier contact details, invoice amount and individual line items. This is where more advanced solutions like Parseur can help.
Parseur is a powerful OCR software which uses both Zonal OCR and Dynamic OCR to automate data extraction from PDFs. It is quick and easy to set up and use for any type of industry. All you have to do is forward your documents to the Parseur mailbox and watch the robots do their witchcraft.
There are no parsing rules and documents are processed within seconds. You can customize the data fields and create as many templates as you want. Parseur uses machine learning to pick up the right template for your documents.
Depending on the type of document or PDF, Parseur can automatically extract data with its built-in library of templates . It has the ability to extract data from tables as well and can connect to different applications such as Zapier, Make and Power automate.
Create my Parseur account
Having a powerful data extraction tool can help you automate your business processes, saving you countless hours of work.
2. Tesseract OCR
Tesseract is a free and open-source OCR software released under the Apache 2.0 license. The program can easily identify more than 100 languages and is perfect for OCR scanning. Tesseract OCR supports deep learning data models as well.
In 2006, Google sponsored Tesseract and it was considered as the most accurate OCR application
Tesseract is available on Windows, Linux and Mac OS. The latest version 5 was released last year and can be installed from Github.
3. Amazon Textract
AWS Textract can automatically extract text from scanned documents using AI, machine learning and OCR. Amazon Augmented AI can also be added to Textract to verify sensitive data and implement human reviews of handwritten documents. Amazon Textract has the following features:
Table and form extraction
Handwritten recognition
Identity documents
Bounding boxes
Amazon also offers an AWS free tier for all new customers which lasts for 3 months.
Reinsurance Group of America, a Fortune 500 company launched an optimization solution in collaboration with AWS Textract to innovate their underwriting process using OCR and machine learning. - RGA, January 2022
4. Google Document AI
In 2020, Google announced their new DocAI (Document AI) platform for document processing automation. It is built on AI and machine learning enabling effortless data extraction workflows.
With DocAI, Unifiedpost Group was able to increase their data accuracy by 250%"
You can test how Document AI works using one of their samples. The software has natural language processing (NLP) capabilities as well to process high volume of scanned paper documents as well.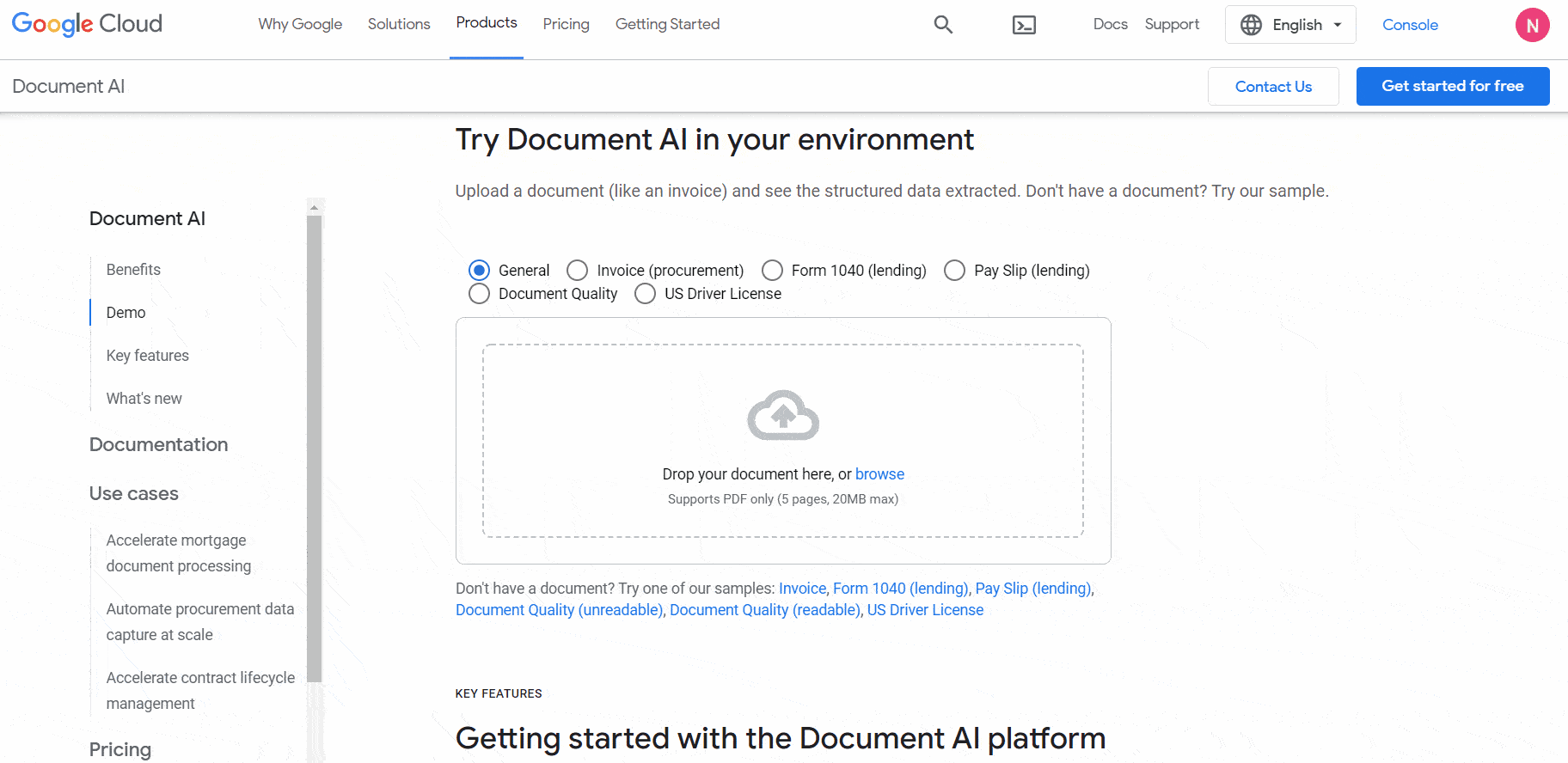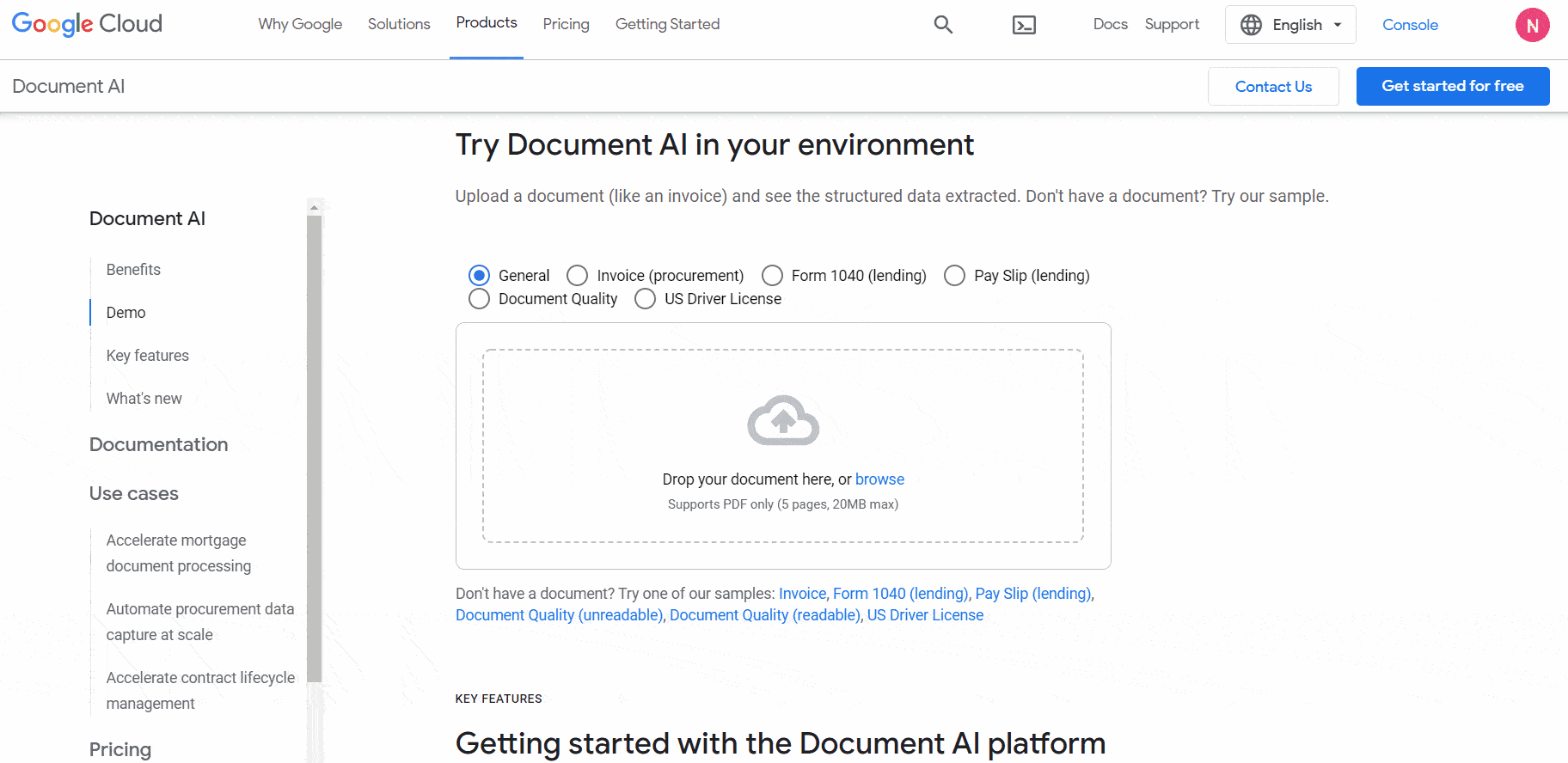 The future of OCR
Of no doubt, an intelligent OCR software can make a difference in the way organization processes their documents. With the rise of new technologies and capabilities such as deep machine learning and AI, OCR systems will continue to dominate the global market.
The OCR market will be worth around $26.31 Billion By 2028.

—Press release by Grand View Research via Bloomberg , February 2021
If companies want to lead with digital transformation, this form of data capture will need to be part of their workflows.