If you've stumbled across this comparison article between Docsumo and Parseur, chances are you were looking for a Docsumo alternative.
Both document processing software can extract data from PDFs and help to save countless hours of manual data entry tasks.
However, they have different features and depending on your use case, one can do a better job than the other.
Parseur VS Docsumo: Comparison Table
Before we get into more details about both software, we have summarized the main differences in the table below.
Engine
AI

Template based

Point & Click

Number of mailboxes/models
Varies by plan
Unlimited
Number of extracted fields
Varies by plan
Unlimited
Metadata parsing
Yes
Yes
Table parsing
Yes, Varies by plan
Yes, Point & Click
Ready-made field sets
Yes
Yes
Automatic parsing
Yes with AI
Yes, hundreds of layouts supported
Zonal OCR
No
Yes
Dynamic OCR
No
Yes
AI OCR
Yes
No
Email parsing
No
Yes, Point & Click
Parse any documents
Yes, after extensive training
Yes, immediately
Parsing in different languages
Yes, results may vary
Yes, supports all languages & alphabets
Integrations

Download

Webhook

Zapier

Google Sheets




Make

Download

Webhook

Zapier

Google Sheets

Power Automate

Make

API
Yes
Yes
Free plan
No
Yes, all features included
How does Docsumo work?
Docsumo was founded in 2019 as an artificial intelligence platform to extract data from scanned documents. It comes with pre-trained models and you can also train a custom engine to extract the data that you want.
Pre-trained models
Once you've uploaded the PDF to Docsumo, the tool will try to parse the data automatically. You can upload a folder to the app. The document will be uploaded within seconds.
From there, you have the option to review the data fields and approve them. You can also add or delete fields. The download options are available at the bottom of the template - you can download the parsed data in CSV and JSON.
The following document types are already on pre-trained models :
Invoices
Bill of lading
Energy and utility bills
ACORD Certificate of Insurance 24, 25, 26, & 27
Flood certificates
Trailing 12 months
US Tax Returns
Table parsing
Data is extracted from the PDF tables automatically if the tables are on 1 single page. During our tests, when the table was spread on more than one page, we had to do some manual tweaking to make it work properly.
Parsing in different languages
As an intelligent document AI platform, Docsumo can recognize documents in different languages. However, the table parsing did not work properly in our tests and required manual intervention.
This is a common issue with many AI OCR. AI models are primarily trained on English language documents which can lead to poor results with non-English documents.
Exporting parsed data to other applications
The "export" option is not easily visible. The export option is found in the settings of the document. You can also change the settings of pre-processing and post-processing.
Training Docsumo model to build a custom template
Docsumo provides the option to train the AI model but this requires a certain learning curve, especially for non-technical people. A minimum of 20 parsed documents is required to train the model.
The first step is to upload at least 20 PDF files and make sure that they have been parsed accurately.
After that, you can click on "Model & Training" and create a new model. From there, you'll need to choose the type of model:
ML with context
ML without context
ML with context V2
Table ML
To be able to train the AI model effectively, it is important to understand what each model means. Unfortunately, there isn't much documentation about this part. You'll need to schedule a demo with Docsumo team.
Once you've selected the proper settings, click on "train". In this example with 20 invoices, the model was ready in less than 15 minutes. You can create four models and then compare them based on accuracy and precision.
To attach the model to a new document, go to the document settings and choose the model in the "extraction" section.
Other Docsumo features
Apart from the main features that we highlighted above, Docsumo can:
Split PDFs by pages and categorize them
Merge images to PDF
Run validation checks
Provide status metrics about the models and parsed documents
Pricing
Docsumo doesn't have a free plan to start with but the document processing tool does offer a 14-day trial. The first plan starts at $500/month where you can parse 1000 pages ($0.5 per page). In this plan, you have limited features; for example, email parsing and table categorization are not included.
If you want all the features, you'll have to choose "Custom Pricing" which is only known after you've had a meeting with the company's sales team.
No doubt, Docsumo goes beyond traditional OCR and has built an AI OCR platform for better data extraction. However, the learning curve takes some time and can be quite time-consuming. Their pricing plans may not be suitable for startups and small-medium businesses.
Drawbacks of AI OCR
AI OCR can sometimes be seen as a black box as there is no guarantee that all the data will be captured accurately. There is often a need for data checks and data validation from a human, which means that it is not a 100% automated process.
AI models need consistent training to ensure that all data points are not missed. In the case of Docsumo, training the model requires time and effort, as you need to train the model on at least 20 documents first.
As an alternative to AI OCR, Zonal and Dynamic OCR can do a much better job.
Parseur: Docsumo alternative in 2023
Parseur is a PDF parser and email parser that automates the data extraction from different documents. The main difference are that Parseur uses Zonal OCR and Dynamic OCR compared to Docsumo which is an AI OCR.
Template based extraction
Parseur is a point-and-click platform with zero parsing rules. If you want to create a custom OCR template, just click on the data and create a data field for it. You can create as many templates and mailboxes as you want!
The data extraction tool uses machine learning to always pick up the right template whenever a new document comes into your mailbox.
Pre-trained templates for different industries
Real estate, food ordering or bill of lading.. You name it! We have templates for several use case where the documents are parsed automatically - with zero human intervention.
Parseur supports automatic parsing from hundreds of providers out of the box
Extract data from tables
The PDF software can extract tables and repetitive structures easily from PDFs even if the tables are on different pages. With Dynamic OCR, you can teach Parseur when does a table start and when does it end.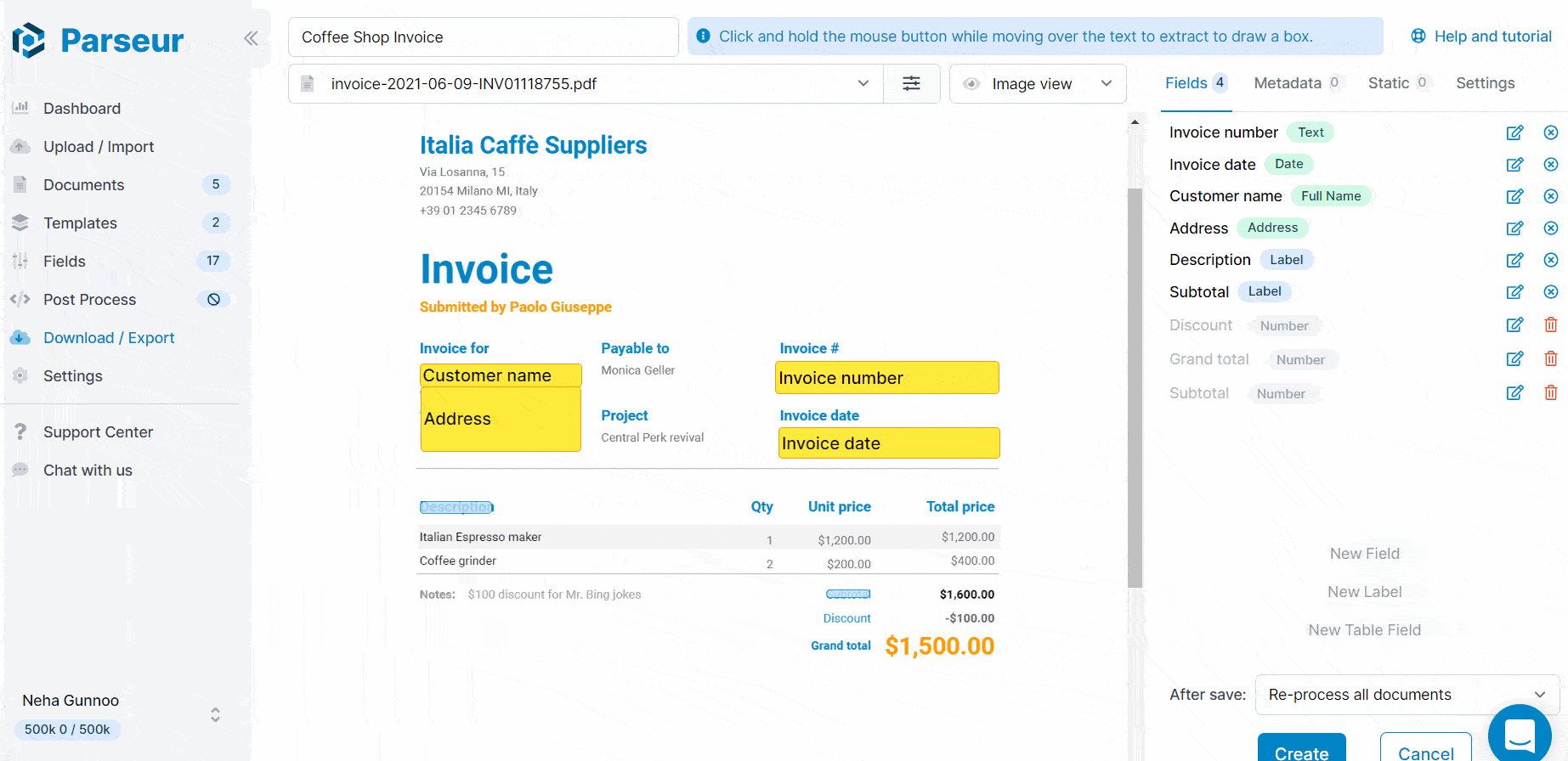 Zonal OCR
Zonal OCR with Parseur goes beyond AI OCR. It extracts data from specific "zones" in a document. Unlike AI OCR, you don't have to validate the data each time.
Extract text from specific zones with Zonal OCR
Dynamic OCR
If you need to capture data that moves across a document, then you'll be limited by Zonal OCR. With this new OCR engine, data that moves dynamically or vary from size to size can easily be captured.
Dynamically adapt to moving fields with Dynamic OCR
Learn more about Dynamic OCR with Parseur
Other Parseur highlights
Metadata parsing: The date and time received, subject, filename, recipient's email address can be extracted from PDF documents.
Data retention policy: You can set a custom retention policy to delete your documents.
Advanced post processing: Write your own Python code for advanced manipulation of data.
Learn more about Parseur features
Pricing
Compared to Docsumo, Parseur has a free plan with all the features available. And, for 1000 pages the price is only $99 which is 4x less than Docsumo's pricing. On top of that, you can create unlimited mailboxes with a custom retention period.