Key takeaways
57% of procurement leaders still rely on manual data entry.
Purchase order automation speeds up the PO process.
Use Parseur to automate data extraction from your purchase orders.
Imagine this: Your friends are dancing at Taylor Swift's concert during The Eras Tour. But you couldn't attend the show because you had to process purchase orders on a Friday night.
How often did you miss out on lunch, coffee breaks or fun Friday nights because the workload was too much?
Imagine a world where data extraction from purchase orders is done automatically. You can live in this world—keep reading to learn how!
The purchase order process
A vendor sends a buyer a purchase order, which is a legal document, with the goal of securing an order.
There are four types of purchase orders
Standard purchase order
Planned purchase order
Blanket purchase order
Contract purchase order
The standard PO process includes 9 steps from the creation of a purchase order to its closure. This process takes more time when done manually.
What is 3-way matching?
The 3-way matching involves verifying the consistency between the purchase order, the goods received and the invoice. If all three match, then the supplier can be paid.
The nightmare of manual PO data entry
Without a doubt, generating purchase orders is essential to tracking orders, confirming the supplier's intent and ensuring the procurement of goods.
However, a manual purchase order process is time-consuming and tedious. I'm sure you can relate as a purchase manager!
Since data needs to be verified manually, the process is long.
There is always the risk of human error when dealing with paper-based POs.
There is a constant need for manual review to ensure data accuracy.
Inaccurate purchase orders lead to late payments with penalties affecting the relationship with suppliers and the company's reputation.
Gathering accurate PO data is also not reliable with manual processing.
57% of the procurement leaders reported that they are still reliant on antiquated manual data entry.
Purchase order automation is the solution
In simple terms, purchase order automation means automating the PO process and, thus reducing manual tasks.
Instead of manually copy-pasting PO data onto Google Sheets, or inputting it into another software, you can automate this process.
How do I automate a purchase order?
PO automation tools leverage technologies such as artificial intelligence (AI), machine learning (ML), and optical character recognition (OCR) to process POs.
Those may seem like big words but, most purchase order software is no-code or low-code. As a purchasing manager, you just have to choose the right tool based on your requirements.
### How can PO automation speed up the process?
There are many reasons why organizations are switching to electronic purchase orders and robotic process automation (RPA)
Faster data processing
This is probably the most important benefit; data is processed quickly. Take a moment to calculate how many hours you spend on a daily basis processing PO data. A robot can do the same work within minutes, leaving you more time to conduct other activities.
A clearer process without errors
Automated workflows are more structured than paper-based processes, which reduce errors and increase efficiency and data accuracy. There is no need to search for specific information.
Better visibility on PO processes
When processes are manual, a lot of time is wasted on chasing approvals, verifying data, and ensuring that everyone on the team is doing their job. Purchasing automation provides purchasing managers with instant visibility.
Purchase order automation with Parseur
Parseur is the superhero to rescue you from the manual PO extraction plight. There are 2 ways where Parseur can help:
Automate data extraction from vendor quotes
Make 3 way matching by automating data extraction from POs
What can Parseur extract from purchase orders?
Parseur can extract the following information:
Order no.
Date
Supplier details (name, address, phone number)
Product details (description, quantity, price)
Subtotal
Discount
Total
What makes Parseur different from other data extraction tools?
As an intelligent document processing tool, Parseur leverages advanced technologies such as AI OCR to ensure a high degree of accuracy.
The PDF parser has pre-defined templates that automatically extract data from documents with no human intervention needed. You also have the option to create a custom template with our AI-assisted templates and ready-made fields.
Getting started with PO automation
Sign up for a free plan, create your account and follow the steps below.
Step 1: Upload a purchase order to your mailbox
Drag and drop the PDF into the mailbox.
Step 2: Create a PO template for data extraction
It's very simple to create a PO template with Parseur. Highlight the specific data that you want to extract and create data fields for them.
Step 3: Verify the purchase order data
Have a thorough check on the parsed data; it should look like this: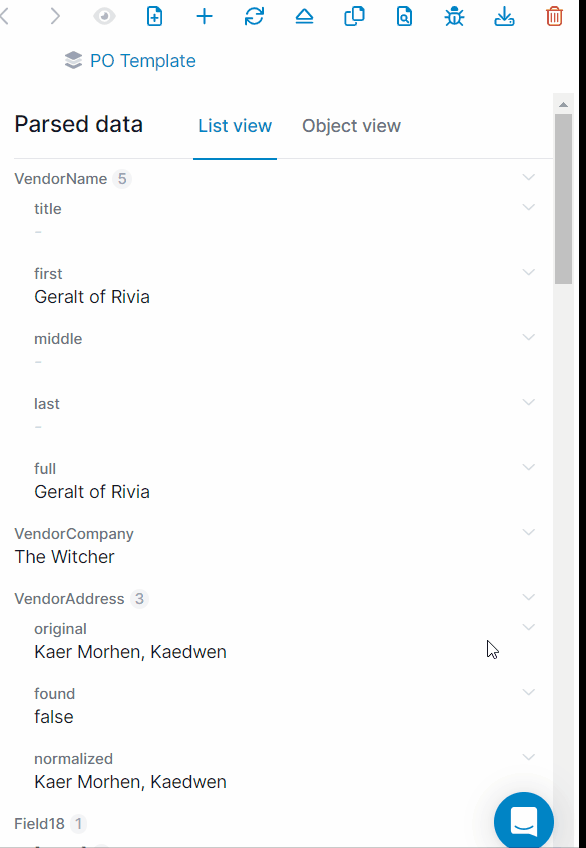 Step 4: Send PO data to other apps such as Kissflow or Monday
There are several ways to use the PO data for further analysis.
Send data to a shared Google spreadsheet. in real time
Export it to any PO tool using Zapier, Make and Power Automate
Embrace PO automation and let go of the heavy lifting
That's you, basking in the glory of automation, once you let Parseur take the reins of your PO processing.
With Parseur on your team, the 'POssibilities' are endless. No more long hours spent manually extracting data, no more errors sneaking into your work, and most importantly, no more dull, repetitive tasks stealing your valuable time.