Do you process work orders manually? Is it time consuming and costly during peak seasons?
It's time to take the maintenance business to the next level and work order automation is the way to go!
What is a work order?
A work order is a document that lists specific tasks that a worker must complete. Work orders are commonly used in various industries such as manufacturing, construction, maintenance, and service sector. They are formal requests to authorize maintenance and technical actions.
Work orders are also important for compliance and auditing purposes.
Types of work orders
Work orders contain essential information so that employees can perform their tasks efficiently. Work orders vary by industry and company.
Maintenance
Safety inspection
Installation
Property management
Typical work order process
The work order life cycle includes the steps below:
A work request is generated
The request is reviewed and approved by the manager
The work order document is created and assigned
Challenges of work order processing
Manual processing of work orders, whether in maintenance, repair, manufacturing, or any number of other sectors, can be time-consuming and fraught with the potential for error.
Extracting data from work orders can result in typos, incorrect or missing information.
It can be difficult to interpret handwritten texts.
It is time consuming to go through many work orders on a daily basis
Without a centralized system or automated tracking, it can be challenging to gain visibility into the status of work orders, and track progress.
Manual work order processing often lacks robust reporting and analysis capabilities, making it challenging to identify patterns, bottlenecks, or workflow improvement areas.
Why should companies automate work orders?
By automating work orders, companies can streamline operations, enhance productivity, and improve customer service.
Minimize errors
Automated solutions eliminate errors and provide more accurate data. The quality of work orders will improve leading to greater customer satisfaction.
Better efficiency and productivity
Since manual data entry is reduced, employees can focus more on value-added tasks which increases productivity.
Improved data analysis and better reporting
Creating an automated workflow provides real-time visibility into work order status, allowing companies to better analyze trends, track progress and make better informed decisions.
Work order automation with Parseur
Parseur is an intelligent document processing. tool that automates data extraction from PDFs. You can also integrate Parseur with other applications to send data in real time.
Use case example
In a property management scenario, there are works such as renovations or maintenance (painting, building the fence or kitchen repairs). If there is inaccurate information, this can lead to delays and customer dissatisfaction. Clients want the job to be done quickly and efficiently.
If you are managing several properties, going through those work orders and then, assigning the tasks to handymen is time consuming. You'd rather spend your time managing client relationships.
How to automate the work process with Parseur?
We've developed Parseur in a way that everyone can use it. There are no coding or parsing rules. Many PDF parsers require a learning curve before you can implement them. But Parseur isn't one of them.
Parseur is user-friendly, template-based and easy to set up. It also uses PDF OCR to ensure that all documents are processed accurately.
Parseur can extract the following data from work orders:
Work order number
Work order date
Job description
Location
Contact details (full name, phone number and address)
Contractor's name
Priority code
Step 1: Set up a work order mailbox
If you're wondering about the cost, we can assure you that Parseur is cost-effective. We have a free plan for you to start with that gives you access to all the features.
Create a custom mailbox and upload the work orders into the mailbox.
Step 2: Create a work order template with AI
With our AI-assisted templates, you can highlight the data that you want to extract and create data fields for it. Be sure to select the correct output for each field (for example, the work order number should be in the number format).
Go one step further and use dynamic OCR to extract data more accurately.
Step 3: Verify parsed data from the work order
Once you've created a template, Parseur will process it instantly. Verify whether all the fields have been extracted correctly.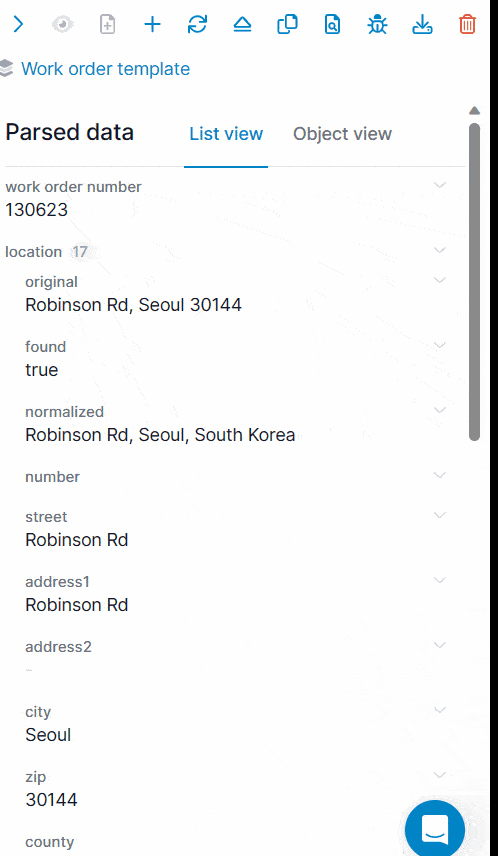 Step 4: Send data from work orders to other applications
Parseur's intuitive platform makes it easier to integrate with other applications via Zapier, Make and Power Automate. You can send data to a resource scheduling platform such as Bridgit Bench and CoConstruct.
The data can also be downloaded or sent to a Google spreadsheet in real time.
New technologies are changing work orders management
Looking ahead, the future of work order management lies in further advancements in automation. With technologies like artificial intelligence (AI) and machine learning (ML), automation can evolve to handle more complex tasks and improve the overall management of work orders.