Are you an RFP manager or someone handling the RFP process in an organization? As an RFP manager, we understand that you have multiple responsibilities including overseeing the development of proposals, responding to vendors' queries and ensuring that the RFP process is running smoothly.
I have two questions for you:- Does your day entail a lot of time to manually review all proposals you receive? Would you like to automate those mundane tasks?
If you just screamed YES to your laptop, then let's see how Parseur can help you automate your RFP process.
Key takeaways
On average, companies submit around 155 RFPs annually.
The RFP process takes between 9 months to 3 years to be completed.
RFP automation is the key to digital transformation.
What is an RFP?
A Request for proposal (RFP) is a document that outlines the specific requirements of a project. It will then solicit bids from qualified vendors. Large corporations and government agencies are the main users of RFPs.
They are mainly used for transparency and to attract the right contractors who will understand the project and deliver excellence.
RFP is not the same as a request for tender (RFT) or request for information (RFI)
RFTs are formal documents with detailed instructions sent to vendors with an invitation to bid. RFIs define the scope of RFPs and collect important details about the project.
A good RFP follows 7 main steps
There are seven main steps to follow if you want to write a compelling request for proposal that will receive many responses.
Define the project scope and budget
Take the time to create a project framework that vendors will understand; avoid technical jargon and use clear language.
Provide the company's background and introduction
A vendor may be unfamiliar with your company, so it's important to provide some history, your business goals and some milestones. HubSpot shares 3 tips for writing this section:
Provide a company overview
Highlight current challenges and opportunities
Provide contact information
Explain the project's requirements
When writing the requirements, you should ensure that they're detailed enough so that the vendors can understand what you're looking for.
Don't omit the challenges in the proposal
Explain the barriers that you're facing for this project and any potential difficulties that may arise.
Outline the selection criteria
Be transparent about how you are going to evaluate the right vendor and what criteria vendors need to match.
Revise the RFP before going live
Proofread the proposal and, once you are satisfied, publish the RFP and distribute it among potential vendors.
On average, companies submit around 155 RFPs annually
The success or failure of the project depends on how accurately the request for proposal has been created. If it lacks information or isn't easily understandable, bidders may be unable to design the correct solution.
The RFP process is time-consuming and challenging
The RFP process takes between 9 months to 3 years to be completed, especially if it's a huge project.
Creating a detailed RFP already takes a lot of time and to top it all, when you receive vendor responses, they come in bulk and in different layouts and formats. Vendor proposals come in different formats such as emails, PDFs, and Excel sheets, which makes it difficult to go through them within tight deadlines.
Sure, you can have a dedicated RFP manager take care of this but, sometimes this might not be enough which can result in project delays.
67% of organizations say they need to improve the time it takes to resolve inquiries from suppliers.
Signs that you need to automate your RFP process
If you can relate to those challenges below, then it's time to integrate an RFP tool into your organization.
You have an increasing number of vendor responses
The RFP process is taking more time to complete than usual
You're missing out on important deadlines
What will happen if you don't embrace RFP automation?
Organizations that do not adopt RFP tools will continue to waste time and effort on manual RFP processes.
What is RFP automation?
RFP automation refers to the use of technology and software tools to streamline and simplify the process of creating, managing, and responding to requests for proposals (RFPs).
An RFP software technology, also known as a strategic sourcing tool leverages artificial intelligence (AI) and machine learning (ML).
How can RFP automation help me optimize processes?
41% of Chief product officers are looking to incorporate AI into their procurement processes.
RFP automation aims to eliminate manual and repetitive tasks associated with the RFP process, improving efficiency, accuracy, and productivity.
Create a standard template for RFPs
You can use automation by using a standard template to create all the RFPs. You can also create checklist to ensure RfPs contain all information you require to select the correct vendor
Automate gathering responses from vendors
For example by asking them to fill a standard questionnaire or spreadsheet with all questions or by Using AI to extract responses from disaparate vendors.
What is Parseur and how does it automate the RFP process?
Parseur is an intelligent document processing software integrated with powerful OCR engines that automates data extraction from requests for proposals.
To automate the response gathering process, you can send key information from the proposals to a Google Sheet or another tool that already contains questionnaires or scoring systems for evaluating vendor responses.
Parseur creates standardized templates for RFPs and proposals ensuring consistency and saving time by avoiding repetitive work.
Getting started with Parseur for RFP automation
Parseur has a free plan; feel free to sign up and test all the features for your use case. This will be the first step.
Once you've created a Parseur mailbox within the application, upload, drag and drop or email one of the proposal documents to that mailbox.
Most of the time, Parseur will recognize the type of document with its AI OCR capabilities and create data fields automatically.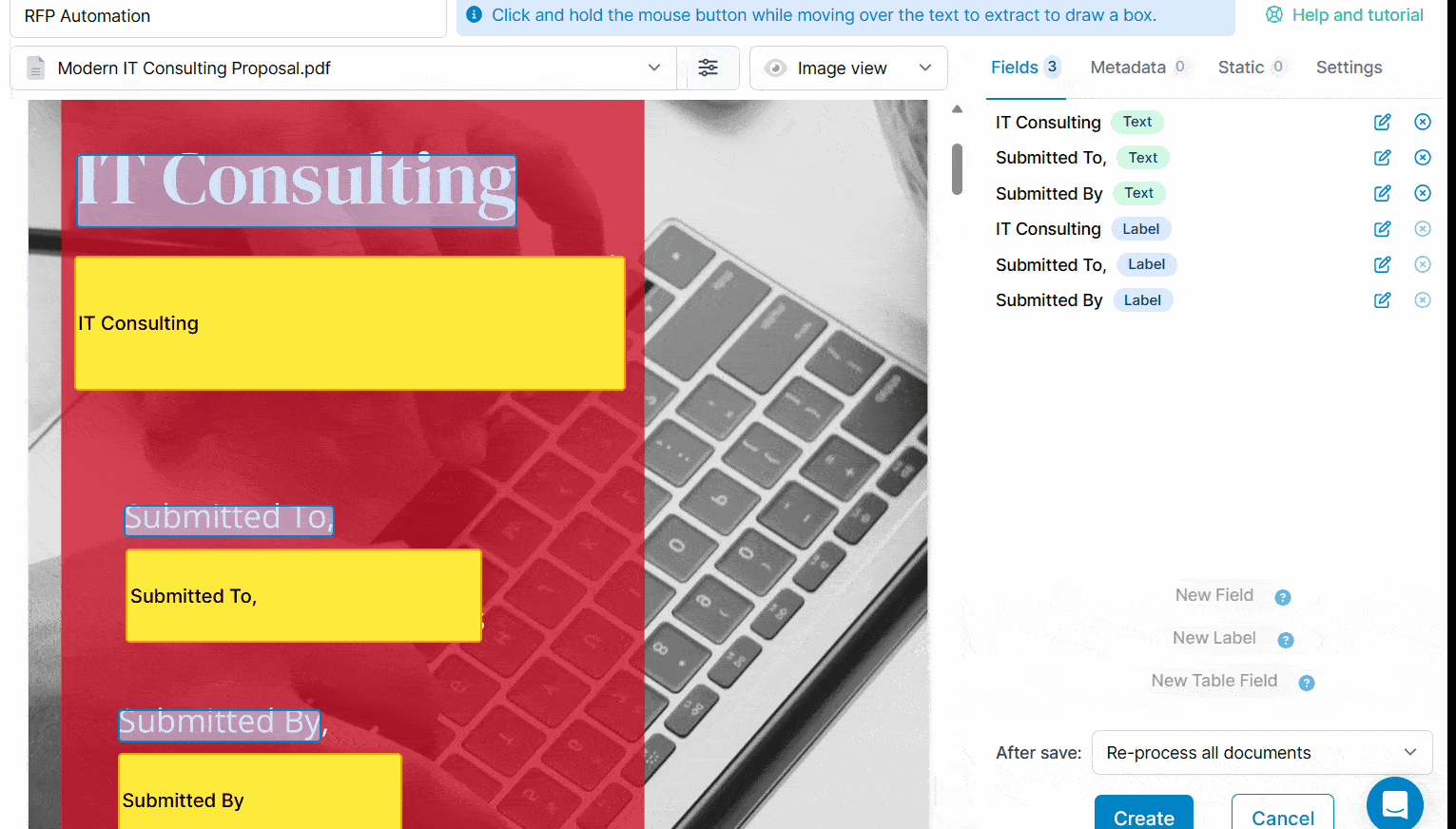 If you still need to extract other data from that document, create a box over it and choose the correct output format. As you can see in the screen capture below, Parseur can easily extract tabular data.
The parsed data will look like this: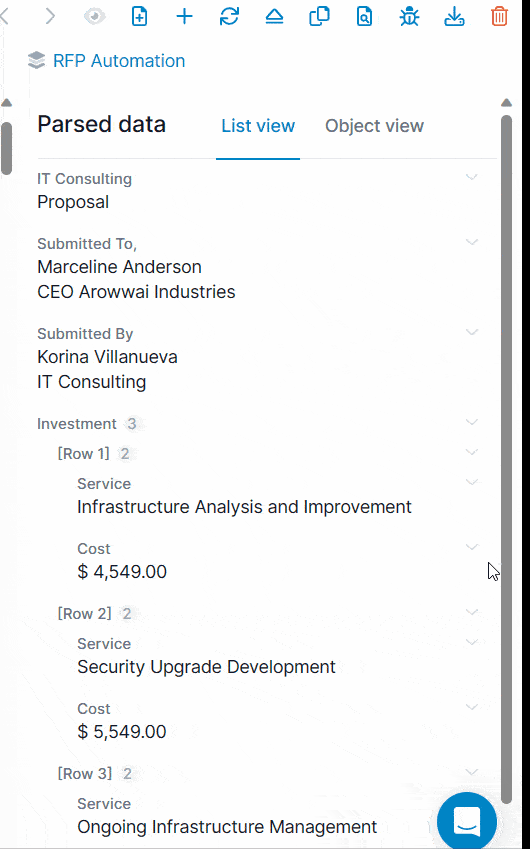 What can you do with this data?
Parseur facilitates workflows between different apps through its native integration with Zapier, Make and Power automate.
Download the data to an Excel sheet
Copy data to Google Sheets in real-time
Send data to any application such as PandaDoc.
Close RFP deals faster with automation
Throughout this article, we have explored the integral role that Request for Proposals (RFPs) play in modern business, while also highlighting the challenges of managing these manually. From inefficiencies and potential errors to the struggle with scaling up to handle larger volumes of RFPs, it is clear that the traditional way of processing RFPs can be a bottleneck for businesses.
Embracing this technology can mean the difference between getting bogged down in paperwork and seizing new opportunities.