Do you receive countless leads contact details in your inbox on a daily basis? No matter what industry you are in (real estate, finance and mortgage, automotive), lead generation is an essential part of every business. You may be receiving contact information, customer queries lead in various formats and from different platforms in your mailbox.
Then, you have to extract specific customer information from those emails (leads name, email, other relevant details) and send them manually to a CRM application to be able to manage customer data and the sales process with the potential customers.
The process between data extraction from your emails to inserting them in your CRM application is a time-consuming and slow one.
What if you could automate this process as well?
Parseur is a powerful email parsing tool to automate data extraction from emails and documents. Extracted data can be downloaded and exported to any CRM application of your choice such as Zoho CRM, Dynamics CRM, HubSpot CRM, and Surefire CRM among others.
Why use Parseur to send emails to a CRM solution?
As a mail parser, Parseur is a visual no-code text extraction tool that does not require any technical knowledge to use. Parseur is template-based and all you have to do is highlight the specific data that need to be extracted and create data fields for them.
Parseur integration with a CRM solution
Create my Parseur account
Having a powerful no code parsing tool can help you automate your business, saving you countless hours of manual work.
Once you have created your account, forward the email to your Parseur mailbox. The email will arrive in your Parseur mailbox within seconds.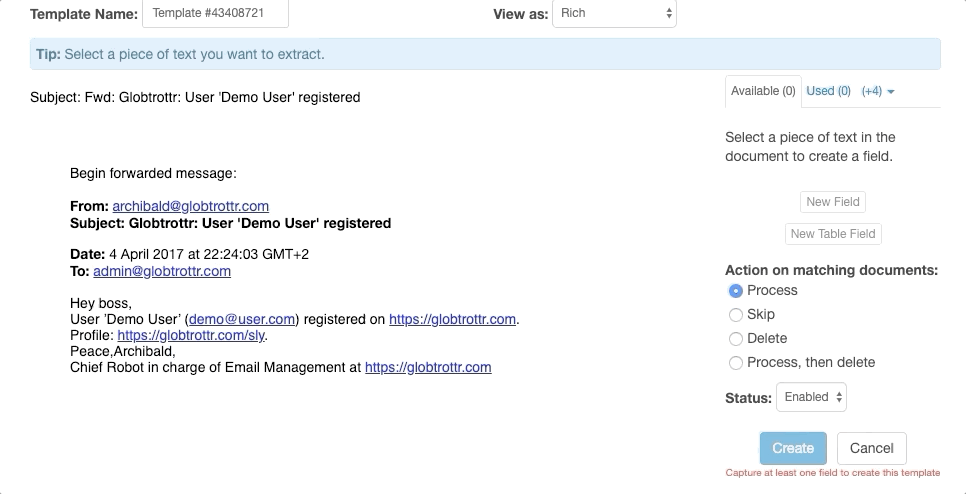 Create a template highlighting the data points you need to extract and every other email that you send to your Parseur mailbox will be automatically processed. You can also create auto-forwarding rules so that all your leads are sent automatically to the mailbox automatically.
Once the template is created, you can then send the extracted data to Zapier in real-time. You can also download the parsed data in Microsoft Excel, CSV, and JSON.
Send your email leads to your CRM using Zapier
Zapier is a cloud automation tool that connects two or more apps together so as to automate repetitive tasks without coding.
Search for your CRM application and click on "Create zap".
You will be redirected to your Zapier account or invited to created one. Follow on-screen instructions to set up Parseur with your CRM in Zapier and map your lead data to your CRM
Integrating Parseur with your CRM application will automate a time-consuming manual and useless task. It will save you time from manually copying and pasting emails to the CRM, thus enhancing the business automation in your company.
The great thing is we've been using it for almost a year now and every time we need to add a different template, table, or essentially anything to allow for Zapier to ingest into the CRM it works perfectly.