Key takeaways:
On average a corporate recruiter receives around 250 resumes.
Going through different resumes manually requires meticulous attention to detail, which can be prone to errors and lead to a missed opportunity to hire the best talents.
Parseur is the best resume parser in 2024
Hello, hiring champions! I can imagine how exhausting it can be to go through all types of CVs within deadlines and choose the best candidates.
According to Glassdoor, on average a corporate recruiter receives around 250 resumes out of which only 4 to 6 will get called for an interview.
So, unless you have an excellent AI resume parser (like Parseur) to help you out, you will continue to drown in a sea of CVs. By the end of this article,  you'll be convinced that Parseur is the Gandalf of all resume parsers - wise, powerful, and surprisingly beard-free.
The 'black hole' of resume screening
Resume reviewing often feels like you are trying to find the holy grail. You know, that one candidate who stands out with the sparkle of Excalibur? Unfortunately, to get to that candidate, you have to go through all the resumes waiting for you in your inbox.
As this process is often time-consuming and tedious, good candidates often get lost.
The top challenges of manual resume screening
The job market is highly competitive, and since the pandemic, there has been an increase in job applications.
Manually reviewing a high volume of resumes is time-consuming which can lead to delays in the hiring process.
Resumes come in different formats and layouts which results in a lack of standardization.
It requires meticulous attention to detail, which can be prone to errors and lead to a missed opportunity to hire the best talents.
AI to the rescue!
Yes, AI is now the superhero taking care of all our digital resumes. AI resume parsing reduces the time and effort required during the hiring process. It helps to save time for both recruiters and candidates; potential job seekers can get a response quicker.
88% of companies globally use AI technology in HR including recruitment.
How can AI help in the hiring process?
AI in recruitment is the future of recruitment. AI-powered technology is helping businesses hire better candidates.
It can quickly and efficiently screen large volumes of CVs, without errors.
It can automatically extract candidates' data from resumes with high accuracy.
It can send those data to other HR tools such as BambooHR or Monday.com
Why is Parseur the king of the resume parsing world?
Parseur is the king of parsing and I'm not kidding. We have a 'Wall of Love' to prove that. Parseur can extract specific data from resumes within seconds... Yes, seconds! How cool is that?
Side note: Does anyone want to talk about the ending of GOT? Sorry, the meme distracted me from my day job.
Back to why Parseur is the best resume parsers in 2024
Parseur is not like your typical AI software that requires a learning curve or that you need to train. I'm aware that there has been a rise in AI tools for the past few years but Parseur is a different one.
It has a predefined mailbox to parse resumes and CVs
You can also teach the AI tool which specific data you want to extract
The AI resume parser adapts to any layout and format
You can export resume data to any other application via Make
Are you ready to save time (and money) with Parseur?
Parseur's AI setup is easy, simple and free! Yes, we like making friends and that's why on our free plan, you can get access to all the features for free. Every month, a Parseur customer saves about 189 hours of manual data entry (or $7,557). Calculate how much you can save per year with Parseur
Create your resume parser
Once you've created your account, choose the right mailbox "Resumes/CVs"
Upload your resume to the mailbox. Parseur will receive the document within seconds.
The resume is processed automatically with AI
You'll notice that the document is processed instantly. Magic happens all the time chez Parseur got our Hogwarts letter.
Can I teach the AI to extract only the data that I need?
Definitely! Parseur is here to make you happy ;) List the fields and give them a name that precisely describe the data you want to extract.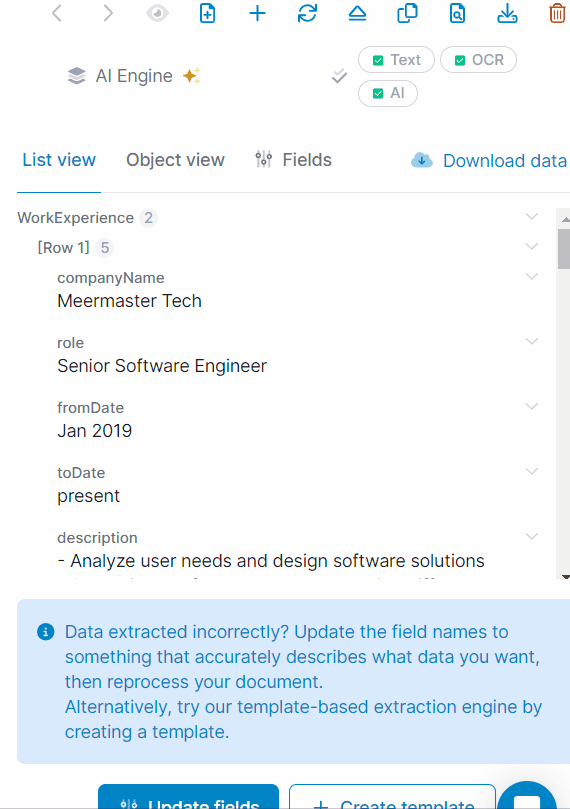 My main goal is to take this data and send it to our HR tool. How can I do that?
You have several options in the Parseur mailbox to export CV data.
You can download resume data in CSV or JSON format
You can use our default formula to send data to Google Sheets in real time
Use our native integration with Make, Zapier or Power Automate and create a workflow to an HR tool
Can Parseur send data to our custom HR application?
Yes, you can connect Parseur with your tool through our API using webhooks.
The future is now and it's parsing your resume
Welcome to the future, where AI doesn't just drive cars or beat humans at chess—it's revolutionizing how we handle the job application process. Parseur isn't just parsing resumes; it's setting the stage for this exciting future. It's not just a tool; it's a glimpse into a world where job applications are smarter, fairer, and a whole lot easier.