If you've ever tried to extract tables from PDF documents, you know how frustrating and time-consuming it can be. Maybe you need to extract a specific row or column with different requirements.
If you are familiar with the challenges associated with extracting text from PDFs, then you will understand how difficult it is to manually extract tables from PDFs. In this article, we'll show you how to easily extract a table from a PDF document and how to automatically convert a PDF table to Excel.
Why do I need to extract tables from PDFs?
Practically every organization uses PDFs as its primary document format. They also frequently incorporate tabular data, such as the products and pricing of an online store on an order confirmation document, rather than just text.
Use cases for PDF table extraction
Extracting tables from PDF files help companies to export data locked in PDFs. Those data are then sent to other business applications such as a CRM, ERP or logistics tool. The key is to retrieve those data quickly and in an editable table format.
Invoicing Processing
In most invoices, you find a description, hourly rate, or quantity for each item in a table. Imagine being an accountant and you need to extract data from tables of innumerable invoices for your clients in order to produce financial reports or statements. The data capture process for invoices can be completed more quickly and error-free by using an automatic PDF parser.
Bank Statements
Show us a text-only bank statement! Most of the time, there isn't one. Bank statements usually contain confidential transactions in the table format. And, manually converting bank statements from PDF to Excel can be very time-consuming. For instance, if you miss important transactions, you'll have to manually check the bank statements, line by line against the extracted data, which takes a lot of time.
Bill of lading (BoL)
Just like invoices or receipts, bills of lading are PDF documents issued by carriers as proof of transactions. Utilizing a PDF extraction tool is the most effective technique to automate B/L processes as shipping paperwork is a time-consuming task.
Travel confirmation
Being in one of the most fast-growing industries, travel agencies are looking for innovative ways to track travels data - for example, a company who wants to keep track of its employees' travels for accounting purposes and personal safety concerns. PDF data extraction helps to extract fields such as airline details, flight schedules, and hotel details. Automating this process can help to access valuable customer data, identify trends and make better decisions about the tourism industry.
Challenges in extracting tables from PDF manually
The last thing you want to do when working with millions of PDF files is manually open and extract each one. Extracting tables from PDF manually has several disadvantages:
It is tedious and prone to mistakes
If you're extracting tables from a large PDF document, you might miss some line items
It is time-consuming leading to a decrease in productivity
You have to manually copy the cells one by one else the formatting gets distorted
Fortunately, there are powerful PDF parsing tools like Parseur to automate table extraction from PDF files instantly.
Let's have a look at the best table extractor tools.
Best tools to convert tables from PDF in 2022
There is no denying the fact that PDF is one of the most popular document formats created and used by creative professionals, organizations and individuals worldwide. We have compiled the top 4 solutions to copy tables from PDFs.
1. Point & Click table extraction: Parseur
With the help of Zonal OCR and Dynamic OCR, the robust PDF engine in Parseur can extract tables from scanned PDFs. Parseur extracts data from repetitive structures and it can even extract individual items if needed.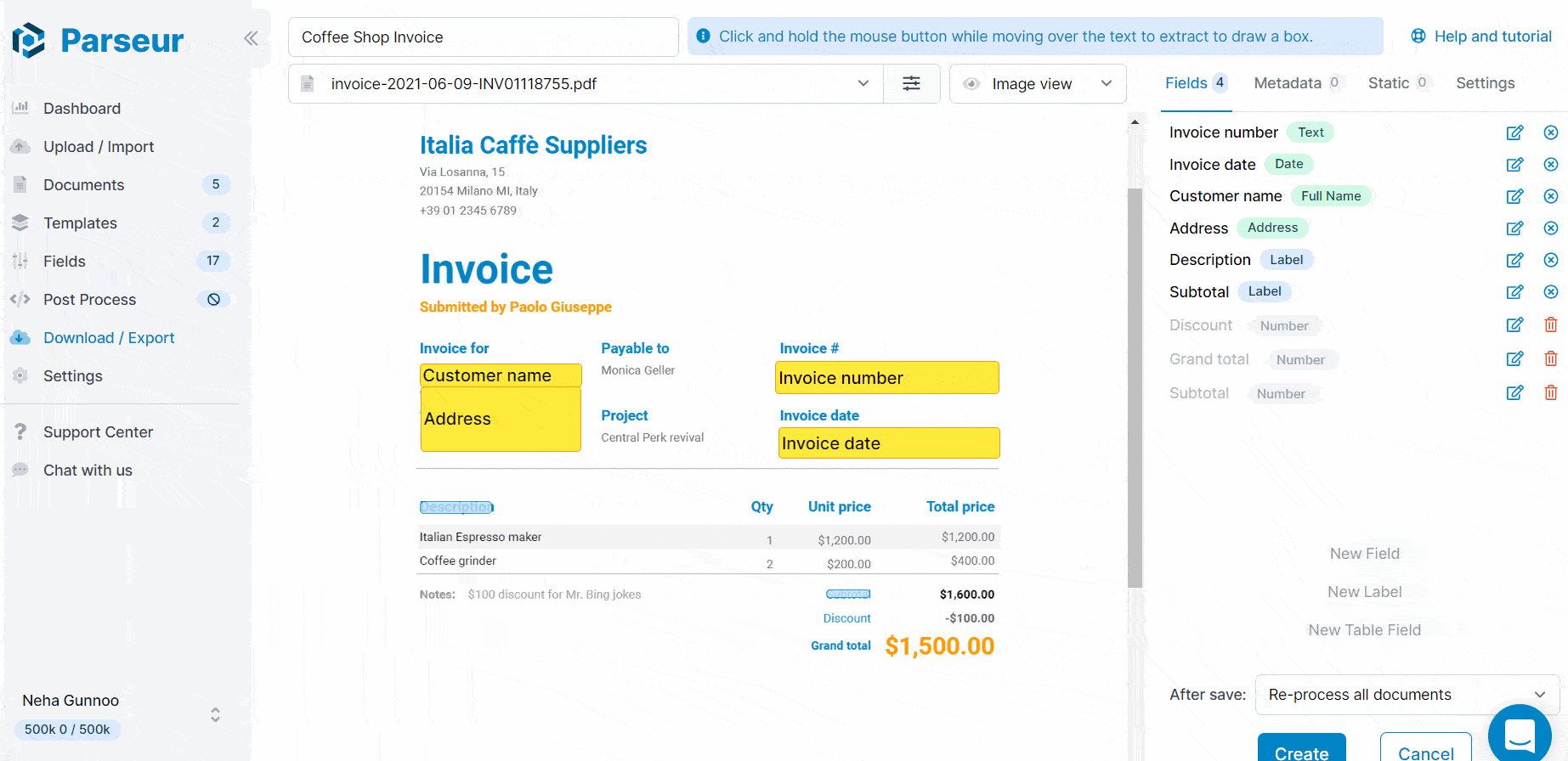 2. Basic table extraction: Tabula and PDF Tables
Tabula is a free open-source tool created by journalists to extract data into CSV or Microsoft Excel. It has a simple and friendly interface. It offers an easy-to-use UI. The tool is a great solution if you are a developer as a Java environment is necessary for this desktop program.
PDFTables is a table extraction API to convert PDF to Excel, HTML and XML. The application is cloud-based, and you may also integrate it with other technologies.
However, both solutions might not be the best option if you need to extract data from scanned PDFs as they do not have an OCR engine. They are also limited to table extraction only, and not text extraction. So, if you need to extract other data (such as invoice number, report date, confirmation number), they won't be convenient.
3. Text extraction: Online PDF Converters
Online PDF converters, for example, Cloud Convert work best when you need to convert a whole PDF document without specific requirements. Additionally, the majority of PDF converters capture tables as text, so you won't obtain the right data format.
4. AI-Based: Nanonets
Nanonets use artificial intelligence and machine learning for table extraction. It can get to a high level of accuracy once your have trained it with a few dozen samples. However training can take some time and if something is not extracted correctly, you'll have to train the model again and manually fix the issues. Also, it might not function correctly if you need to extract individual items from a complex table.
Dynamic OCR in Parseur will extract tables from PDFs in a few clicks
In comparison to Tabula or Nanonets, Parseur has an innovative dynamic optical character recognition which helps to locate a specific field when it moves around on a document.
For example, every invoice can have a different number of items. So the length of the table will vary depending on the number of items in each invoice. This means that your subtotal, discount, or grand total can move vertically across documents. Dynamic OCR lets you create labels over pieces of text in the document and have the captured data positioned relatively to these labels. For example, in two clicks you can tell Parseur that the "Total" field is always right of the "Grand Total:" text label.
How can I extract tables from PDFs?
With machine learning, Parseur's pre-trained OCR engine improves each time it processes a specific document. Table data extraction from PDFs can be done in 4 easy steps:
Upload PDFs directly in the Parseur app (or send it by email)
Create a mailbox. Parseur comes a set of industry-specific mailbox that includes a pre defined set of fields and templates you can use. You can also create a totally custom mailbox.
Create templates to teach Parseur what data to extract by pointing & clicking the pieces of text you'd like to e extract from sample documents. Parseur will then extract data from other similar documents.
Export the parsed table data to any application of your choice like Excel, Salesforce, Notion or your CRM
Check out the tutorial video below to better understand how to create a table field and convert a PDF table to Excel.
Extract table from PDF to Excel
Once the table data has been extracted, there are several ways you can copy a table from PDF to Excel:
Automatic download
If you need to download the parsed table data to an Excel sheet, just click on "export" in the Parseur mailbox and you can download it in CSV, XLSX, or JSON.
Table data capture done automatically
Extracting tables from PDF files is not a challenge anymore as long as you are using the right tool depending on your requirements.
I love your product. I initially started with Zapier's parser, then transitioned to mailparser.io as Zapier's lacked the functionality I needed to parse table data. Unfortunately I also ran into limitations with mailparser.io, which ultimately led to my transition to your product. Mailparser.io's limitations aside, your product is better across the board, so I'm happy I made the transition.
Frequently asked questions
Can you copy a table from PDF?
Yes! When you upload your PDF into the Parseur app, the table is automatically copied. From there, you can extract any tabular data.
Can I extract text from PDFs with Parseur?
Yes! Refer to our guide to extract text from PDFs.
If you have any questions on how to extract a table from PDF, do not hesitate to reach out to us!