Zapier, Make and Power Automate are the three most widely used automation tools in the world today. While each of them is unique in its way, there are some differences that can be drawn upon. We'll go over Zapier vs Make vs Power Automate, covering in detail the comparison between each of them.
What is Zapier?
Founded in 2011, Zapier is a no-code platform that allows you to connect two or more applications together. The tool has quickly become popular among thousands of users worldwide
What is Make?
Make, formerly known as Integromat, is the new advanced automation tool for constructing complex workflows in a simpler way.
What is Power Automate?
With Microsoft Power Automate, previously known as Microsoft Flow, you can develop workflows and integrate them with Microsoft Office applications such as Outlook, Excel and Dynamics 365.
Main differences between Zapier, Make and Power automate
All three of these top automation tools are great and can really help you streamline your workflow. However, they each have their own set of strengths. Get a rundown of the differences and see which one is best for you.
How much does Zapier, Make and Power Automate cost?
Both Zapier and Make offer free plans but with different features.
Zapier free plan
100 tasks/month
5 single-step zaps
The paid plan starts at $19.99 per month with additional tasks and multi-step zaps and goes up to $599 per month. If you upgrade to a higher plan, you can get unlimited zaps, unlimited users and a shared workspace as well.
Make free plan
1000 ops/month
Unlimited users
Real-time execution
If you want unlimited scenarios and active API endpoints, then choose the paid package starting at $9 per month and going up to $29 per month. With the enterprise plan, you can gain access to 1000 API endpoints and enterprise applications.
When comparing Zapier and Make, the latter is more accommodating to all plans. Make gives greater features and flexibility even on payment plans.
Power Automate free plan
Microsoft Power Automate Desktop is free for all Windows 10 users. There are three plans:
Per user ($15/month): Unlimited flows, 5000 daily API requests
Per user who has attended RPA ($40/month): unlimited flows, Power Automate Desktop, AI builder
Per month, for $100: Unlimited users and 15,000 daily API requests
Workflow automation features: how do they compare?
Each of the platforms has its own unique characteristics for different use cases with Zapier being integrated with 4,000 applications, creating complex workflows without coding with Make and connecting with Microsoft products instantly with Power Automate. We have highlighted the main features below.
Zapier's main features
Integration with thousands of applications (4,000 as of April 2022)
Multi-step Zaps (included in the paid plan)
Point and click editor
Conditional logic
Data formatting
Some of Make's common features involve:
Drag-and-drop interface for complex workflows
Integration with thousands of applications (1200+ as of May 2022)
Over 3,000 templates
Power Automate has specific features to create complex workflows:
Connects to most Microsoft applications
Connected to hundreds of third-party applications and services
Multi-step workflows
Approval workflows
Conditional workflows
Suited for large enterprise companies
Using Zapier vs Make vs Power Automate: how do they work
Zapier is the industry leader in terms of integrations, with 600,000 users connected to more applications.
How does Zapier work?
There are 3 components in the Zapier editor namely tasks, triggers, and Zaps. All you have to do is to combine your action and trigger steps. The process of creating a Zap is simple and straightforward.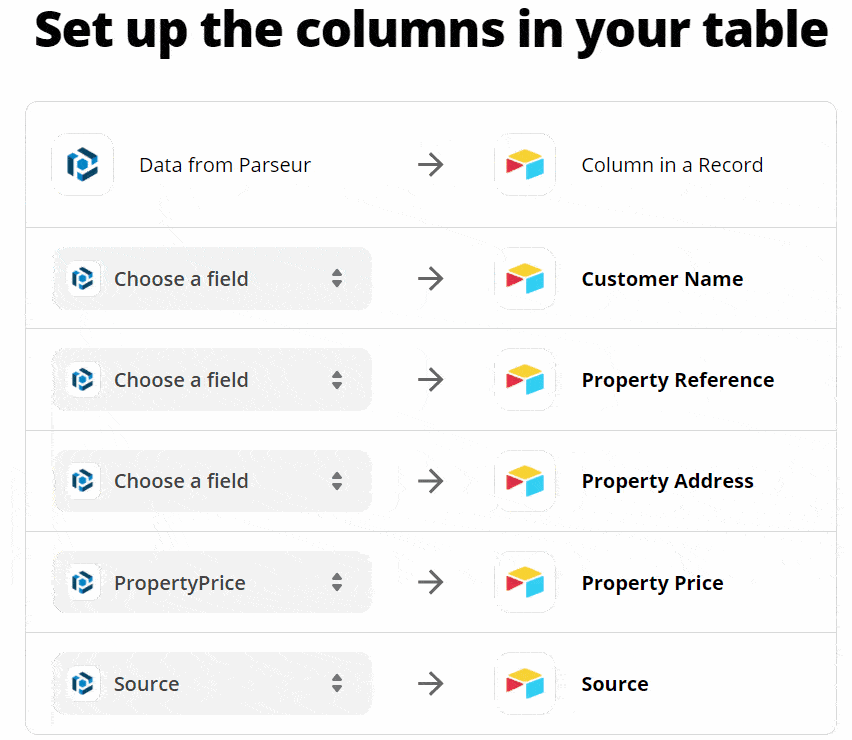 Cons: Zapier may not be the best fit for complex and long workflows.
How does Make work?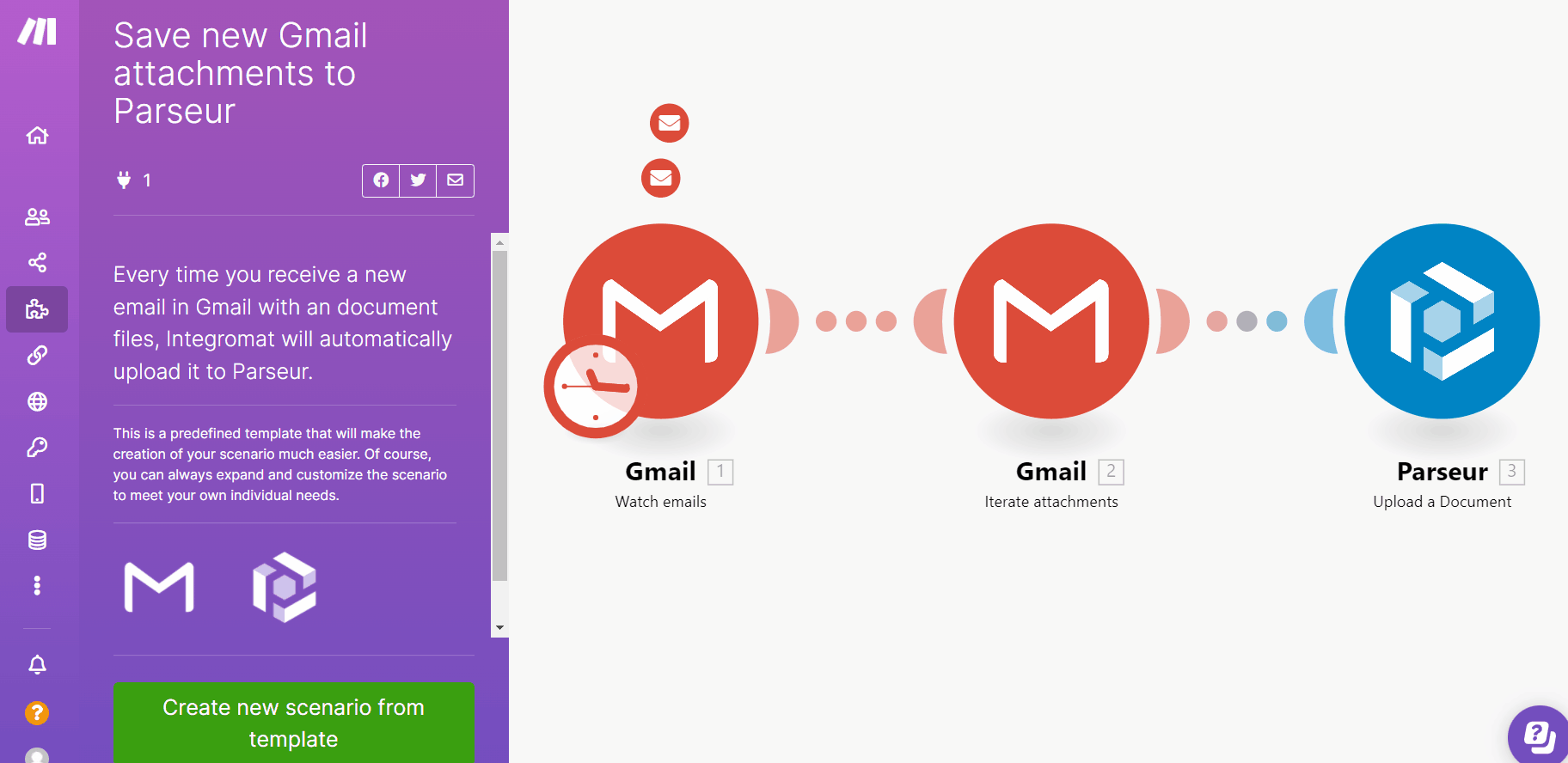 Make works by triggering scenarios that contain modules and connections between the applications. You can also use pre-made automation templates to create the scenarios automatically. You don't need any coding knowledge to create workflows in Make. It's a simple drag and drop interface; the APIs have been turned into blocks.
By adding more modules, you can create more complex workflows in a simpler way. If you don't see your favorite application on Make, you can always reach out to support.
Cons: There is a learning curve for beginners if you are not used to automation tools.
How does Power Automate work?
Power Automate also provides pre-made templates and the flows are divided into 3 main types:
Automated flow
Scheduled flow
Button flow
The integration between Power Automate and another application is called the connector. For example, connecting Mailchimp to Dynamics CRM. Some connectors, however, are only available to premium customers.
If you use Microsoft products on a regular basis, then Power Automate is the best automation solution to easily share and access data. You also have the option to create custom connectors.
Cons: You cannot move or re-order the steps in a flow. Once you've started to create a flow, you have to complete it before starting another one which is time-consuming.
Zapier vs Make vs Power Automate: Reviews
All the three platforms have different ratings as per G2.
Zapier: 9.0/10
Make: 9.3/10
Power Automate: 8.9/10
Reviews for all three tools are highly positive with few exceptions for Power Automate mainly caused by the advanced features.
In a nutshell: Zapier vs Make vs Power Automate
Zapier
Make
Power Automate
Market
Small business
Small and medium enterprise
Big enterprise
Pricing

Free plan

Paid plans: $19.99 - $599

Free plan

Paid plans: $9 - $29

Free trial

Paid plans: $15 - $100

Number of integrations
4000
1200+
550
Set up
Easiest: Point and click
Easy: Drag and drop interface for complex workflows
Good once you get the hang of it
API
Yes
Yes
Yes
Support/Training

Documentation

Email/helpdesk

Documentation

Email/helpdesk

Ratings
9.0/10
9.3/10
8.9/10
Parseur integration with Zapier, Make and Power Automate
Parseur is an email and PDF parsing tool that integrates with all three tools seamlessly. Parseur has a built-in library of templates for specific industries such as real estate, job search, or food ordering. You can easily send extracted data to your favorite applications via Zapier, Make and Power Automate using the native integration.
Send parsed email data to Zapier
Zapier is one of the most commonly used no-code and automation platforms that our customers use as it is simple and easy. All you have to do is choose the application you want to export your data to in the Parseur app and it will automatically create the connection in your Zapier dashboard.
There are so many simple workflows you can create with Parseur and Zapier instantly such as:
Create new Airtable records from parsed email data
Send Gmail emails from data processed by Parseur
Add new data to an Excel sheet from Parseur
Send extracted data to Make
Make is one of our customers' favorite automation tools for creating workflows and sending parsed data to their applications. Our customers use this integration to:
Send lead's details to a CRM tool
In the Parseur mailbox, click on "export", "Make" and "new scenario". This will redirect you to your Make dashboard where you can choose Parseur as the "trigger module"
Extract data from documents and send it to Power Automate
If you need to export data to Microsoft Office applications, then Microsoft Power Automate is the way to go! Parseur is an official connector of Power Automate allowing you to send parsed data to any Microsoft products and services. Some popular scenarios include:
Start parsing documents today
Parseur is the best document processing tool to parse semi-structured documents, saving you countless hours of work..
Which is better: Zapier, Make or Power Automate?
Each of these automation tools has its unique set of capabilities. Zapier is ideal for simple and quick workflows. With Make, you can create complex workflows without coding and Power Automate is the right tool to integrate with Microsoft platforms.
Neither is superior to the other but they are good alternatives to each other. Choose the best fit for your use case and it will work wonders.