In this article, we will explore what receipt OCR is, how it works, and the benefits it offers to businesses.
Over the past decade, receipt OCR technology has undergone significant evolution driven by advances in artificial intelligence, machine learning, and automation. Today, receipt OCR is more accurate, efficient, and scalable than ever before, making it a valuable tool for businesses of all sizes and industries.
What is a receipt OCR?
Receipts are an important aspect of bookkeeping and are used for tax audits as well.
Receipt OCR or receipt optical character recognition (OCR) allows businesses to extract data from receipts and other documents in a digital format. This technology works by scanning an image of a receipt and using software to recognize and extract the text within the image.
Receipt digitization also known as receipt extraction is the process of extracting data from digital receipts and, then exporting them as structured data
Challenges of manually processing receipts
The costs and risks associated with manual receipt processing make it a less-than-ideal option for businesses looking to streamline their accounting processes.
When receipts are processed manually, they must be physically sorted, organized, and entered into accounting systems by hand, which can take a significant amount of time and effort.
When data is entered by hand, there is always a risk of typos, missing information, and other mistakes that can result in inaccurate financial records. These errors can be difficult to catch and correct and can lead to significant problems for businesses down the line.
By using receipt OCR technology, businesses can overcome these challenges and improve the accuracy and efficiency of their accounting processes.
Benefits of extracting data from receipts automatically
By automating receipt processing, you can save time, resources, and cost.
Receipt OCR technology can help businesses gain deeper insights into their financial operations by providing a wealth of data that can be easily analyzed. By categorizing and organizing this data, businesses can identify patterns and trends that can inform their decision-making processes.
Receipt OCR solutions can help businesses respond to customer inquiries more quickly and efficiently. By automating the process of retrieving receipts, businesses can provide customers with the information they need in a timely manner, improving their overall satisfaction with the company.
As you embrace automated receipt extraction, you move towards a more paperless society.
Technologies involved in a receipt OCR
In the past, receipt OCR was a relatively basic process that relied on optical character recognition to extract text from scanned images of receipts.
However, with the advent of AI and ML technology, receipt OCR has become much more advanced. Today's receipt OCR software can recognize a wide range of document types, including receipts, invoices, and other financial documents.
Additionally, these systems are capable of extracting data from these documents with a high degree of accuracy, thanks to the use of machine learning algorithms that can recognize patterns and learn from experience.
Examples of receipt OCR are Parseur, Tesseract and Nanonets.
However, traditional OCR or AI OCR have some limitations; for example, you have to train the AI model and sometimes, manual reviews are required for the process.
Parseur: Automating receipt processing with Zonal OCR and Dynamic OCR
Parseur is an advanced receipt parser that extracts information from receipts automatically. You can then download the parsed data or send it to another tool.
Parseur offers a template-based platform which is flexible and user-friendly.
What data can Parseur extract from receipts?
Parseur can easily extract the following information from receipts:
Receipt number
Items' details (quantity, description, price)
Discount
Grand total
Receipt date
Vendors' details (name, address, phone number)
Payment method
How to use a receipt OCR?
Use case: an accounting department that needs to record travel expenses for employees
Even if you are a small or medium business, the moment you have a team, all the business expenses incurred by your team have to be recorded. If your team is traveling or meeting clients over lunch, for example, there needs to be proof. And, most of the time, employees hand over the receipts to the accounting department.
As a small team, you can extract data from receipts manually. But as your team grows, so do the business expenses. This is where Parseur as a receipt OCR comes into play.
Extract data from receipts
Having a powerful PDF parsing tool can help you automate your business processes, saving you countless hours of work.
Step 1: Create your mailbox in Parseur
Parseur has a mailbox specifically for invoice processing and receipts. The account and mailbox are free to sign up and you'll have access to all the features.
Step 2: Upload the receipt to the mailbox
You can drag and drop the scanned receipt and Parseur will receive it within seconds.
Step 3: Create a custom template for your receipt
Parseur has developed ready-made templates for invoices and receipts. However, you can also create a custom OCR template for the receipt, teaching Parseur which data you want to extract.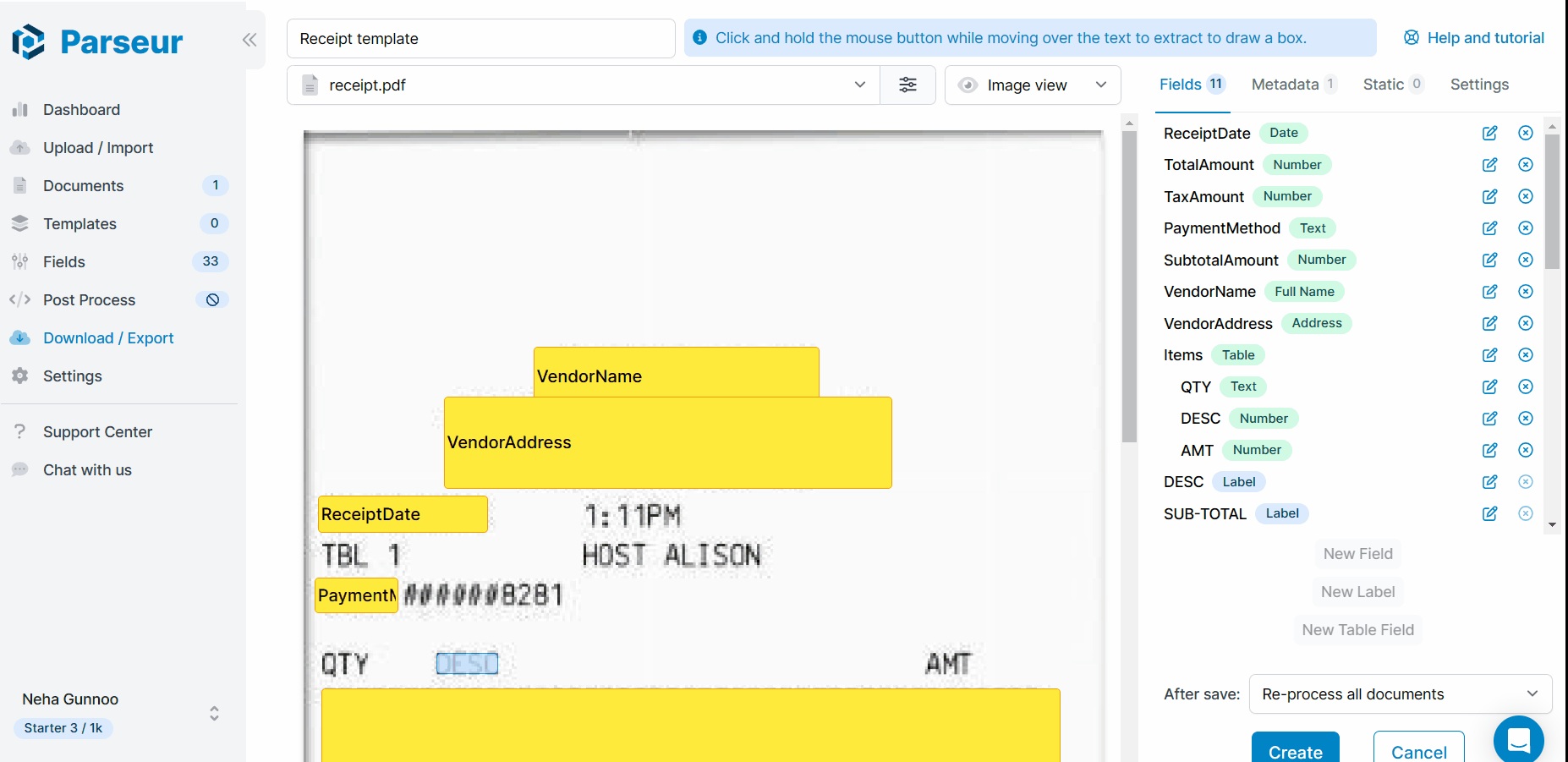 Once done, click on "create".
From now on, every similar receipt that you send to this Parseur mailbox will be processed automatically.
Step 4: Download the receipt data or export it to accounting software (optional)
You can download the parsed data in CSV or JSON. Parseur also provides default formulas to send the data to Google Sheets in real-time.