The car sharing market is booming due to the emergence of new trends, business models and technologies. In this article, we will analyze the car sharing market in 2023 and how automation is playing a big role in a car sharing business.
The global car sharing market will reach $9 billion in valuation by 2026, growing at a CAGR of over 24% - Global Market Insights, 09 April 2020.
10% of the population is expected to adopt car sharing as their primary mode of transportation by 2025 - Zipcar
But, first what is car sharing?
Car sharing is a type of car rental that allows you to rent a car at any hour. It is more convenient for those who need a car for a shorter period of time. You are only billed for the usage, i.e., how far you have traveled.
Car sharing is a disruptive new way of car rental, much like how Airbnb revolutionized accommodation booking and Uber transformed the taxi industry. - Car2go
According to a study by Frost & Sullivan on the Future of Carsharing Market to 2025, there are already 10 million people in the shared mobility market.
The Europe car sharing market size is estimated to cross $4 billion valuation by 2024; Peer-to-peer segment to boost growth in North American market; Asia Pacific industry to register 31.5% CAGR through the projected duration
For the European car industry, the focus is more on shared electric cars. To meet this growing demand, Zipcar has partnered with Volkswagen to provide the largest fleet of electric vehicles in the UK. Zipcar is one of the biggest players and a forerunner in the car sharing industry with a presence in over 384 cities in the United States, offering 16,000 vehicles and serving over a million members. Zipcar was launched in 2000 as a membership-based car sharing company.
In early 2008, Car2go (Daimler Group) and DriveNow (BMW) formed a joint venture to bring the largest shared mobility system in the world, now named ShareNow. With this productive merger, today, they form part of the largest EV fleet across Europe in various cities with 3030 e-cars.
billionIn the North American market, due to the huge success of the global car sharing industry, a number of key car players have been investing in car sharing services to level up their game. According to an industry analysis by Global Market Insights, the car sharing market will exceed $ 9 Billion by 2026.
inIn 2019, Movmi released the Shared Mobility City Index edition where they compared data on shared mobility of 20 North American cities. San Francisco topped the list as a leader in the car sharing market. The city had both the one-way and two-way car sharing as well as peer-to-peer car sharing.
The target market for car sharing is also focused on the millennial generation who are driving less and can't afford to buy a car for their trips. This type of service to the new generation is convenient and can be used anytime and anywhere.
The car sharing market is predicted to grow at a substantially increased rate due to concerns for the environment and the increased fare rates of taxi drivers. Companies are investing heavily in the technology to improve the customer experience and security. Approximately 36 million drivers are expected to use car sharing services around the world in 2025 and, the two main reasons for this are the millennium lifestyle and advanced technologies.
The ABI research predicts that 400 Million People will Rely on Robotic Car Sharing by 2030.
Even the government authorities are providing incentives for the smooth penetration of new players for the growth of the market. This shared mobility offering has been confirmed to have positive impacts on communities.
The key market players are Zipcar, ShareNow, Getaround, Turo, Hertz Corporation, Hour Car, and Urbi.
Benefits of Car sharing: Efficient, Sustainable and Cost Effective
The drivers of a car sharing business are the smartphones and technology. Unlock the car with your smartphone. Locate an available car within your city, and register for a membership service through the application on your phone.
Car sharing is greener as it can replace up to 20 owned cars on the road, thus decreasing personal car ownership and motivating people to walk and cycle.
It is less expensive than owning a car as there are high fixed costs associated with a private car (insurance, maintenance, parking). Car sharing eliminates all of those costs as you pay only for how much you drive.
It is perfect for densely populated cities with huge traffic jams.
At any time of day or night, just by using the internet and your smartphone you can find the nearest available vehicle. Flexibility and convenience are the two main benefits of car sharing. Imagine how cool it is to just open a parked car with your smartphone!
3 types of car sharing programs
P2P (Peer-to-peer) Car sharing
It is a business model for car owners who want to rent their personal vehicles on a short-term basis. This allows car owners to receive income on the side when they are not using their cars regularly. Turo is the world's largest P2P car sharing company located in San Francisco. The fact that they raised $500 million in funding proves that there is increased demand for the P2P marketplace.
Getaround and Drivy are also examples of peer-to-peer car sharing.
B2C Car sharing
Drivers can rent cars owned by private car sharing companies. The best examples are Zipcar, DriveNow and Car2Go. Car2Go's vehicles can be left in municipal parking lots throughout Seattle, Portland, and Minneapolis,Texas.
The B2C car sharing can be categorized into three types:
Free floating (station-less transportation sharing service) It is a simple and affordable car sharing service without a fixed station. And if you are using electric cars, you no longer have to worry about connecting to a charge point as you will be within a specific area with all the available charge points thus promoting eco-mobility.
Station-based is a car-sharing business model where all the vehicles are located in a fixed place. Customers begin their trip at a fixed location and end it at the same place.
A-B car sharing model is when you start the trip at point A and end it at a fixed point B.
Types of car sharing programs
Source: Movmi Shared Transportation Services Inc
Corporate Car sharing
itsonly B2B or corporate car sharing is accessible to a specific group of people or community. For example, a company that wants to provide their employees with a professional shared mobility service.
Nonprofit car sharing
Nonprofit car sharing companies that support car sharing to make a positive impact on the environment and people's health.
eGo Car Share at Colorado is the perfect example.
Automating your car sharing business to reduce time consuming tasks
Though the car sharing business is booming, it is important to understand the business model and the operations. Just like any other business, you will have to take care of the accounting and finance part, increasing your sales funnel while delivering the best to your clients.
It doesn't matter which car sharing program you are in; the moment you penetrate the market, it becomes a real operating company. An example could be receiving repetitive emails from potential customers and having a mailbox overloaded mailbox.
Why should you integrate Parseur with your car sharing business?
Do you receive countless emails on a daily basis through a contact form posted to your email inbox?
Do you need to extract specific data from those emails such as email addresses and phone numbers of leads?
Do you have to send that data to your CRM or any other applications of your choice?
If this sounds like you, then having an automated workflow process within your business will not only help you save countless hours of manual tasks and money but also scale your business more quickly.
Benefits of integrating Parseur with your car sharing business
Parseur is point-and-click and template-based, which means that you don't have to be technology-savvy to use the tool. Unlike other mail parsers, no parsing rules need to be created for the data extraction process.
With Parseur, you can:
Create custom templates based on your requirements
Parse support or help needed emails or SMS from car renters and push them into your support system, create a support ticket and notify the support staff
Centralize rental bookings into a single agenda or business application so that you can offer your vehicles on multiple platforms at once by parsing booking confirmation emails
Aggregate your invoices into a single accounting system so that you can consolidate your monthly and yearly turnover across several car-sharing platforms
Integrate with thousands of CRM, accounting, productivity applications
Real use case example at Parseur
Let's take a look at a real use case at Parseur for P2P car sharing. Julien is in the car sharing business where he rents his vehicles on car rental platforms such as Getaround. With Getaround, cars can be rented at any hour with 24/7 road assistance. Getaround Connect™ is an electronic device installed in cars that provides GPS tracking and anti-theft functionality. Only the owners and the verified renters can unlock the Getaround app.
When the rental is completed, as the owner, Julien receives a summary email with important information that he needs to extract and send to a Google Spreadsheet. Before Parseur, that process was a manual and time intensive one as his mailbox was overloaded with emails at some point.
With the integration of Parseur into his car sharing business, Julien no longer has to spend hours on manual tasks. From the moment he receives an email in his mailbox, everything is automated until the extracted data is sent to Google Sheets.
How does the data extraction process in Parseur works?
Once your mailbox has been created, forward your email to your Parseur mailbox. The email will arrive within 10 seconds. You can also create an auto-forwarding rule so that all your emails are sent to the mailbox automatically.
Parseur is template-based; you just need to highlight the specific information that you want to extract and create data fields for them. It's as simple as that! And, you can create as many templates as you want.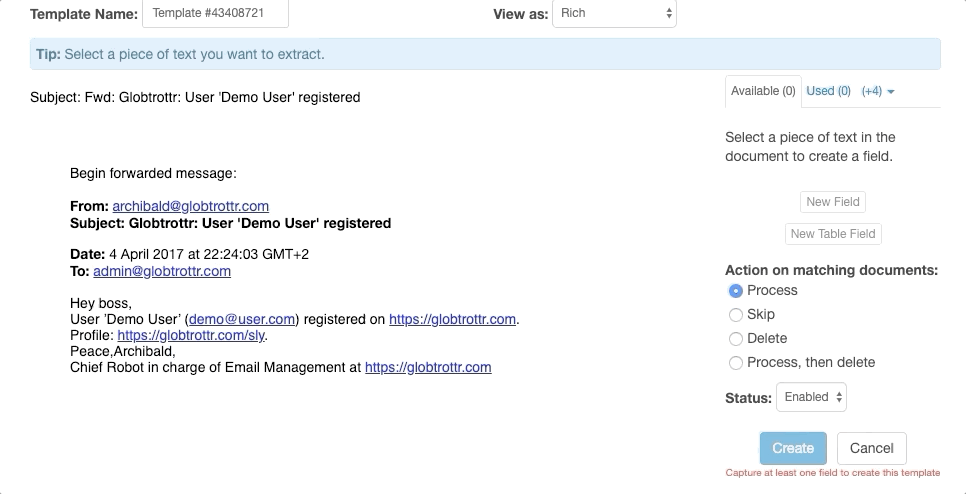 What specific data can Parseur extract from car rentals' emails?
With a powerful no code tool like Parseur, you can extract specific information based on your requirements. The data below is what can be extracted from your mailbox:
Name of the car owner
Address of the car owner
License number
Date of permit
Type of vehicle
Registration number
Fuel type
Date/Time the vehicle was used
Kilometers
Fuel level
Rental Price
Distance traveled
Date/Time the car was returned
Export the parsed data to any application
As mentioned before, you can send the parsed data to thousands of applications via MS Flow, Integromat, IFTTT, Webhook and Zapier.
Zapier is a cloud-based automation tool that connects apps together and the most popular one. With Zapier, you can export the extracted data in real time to any other applications automatically such as Google Sheets.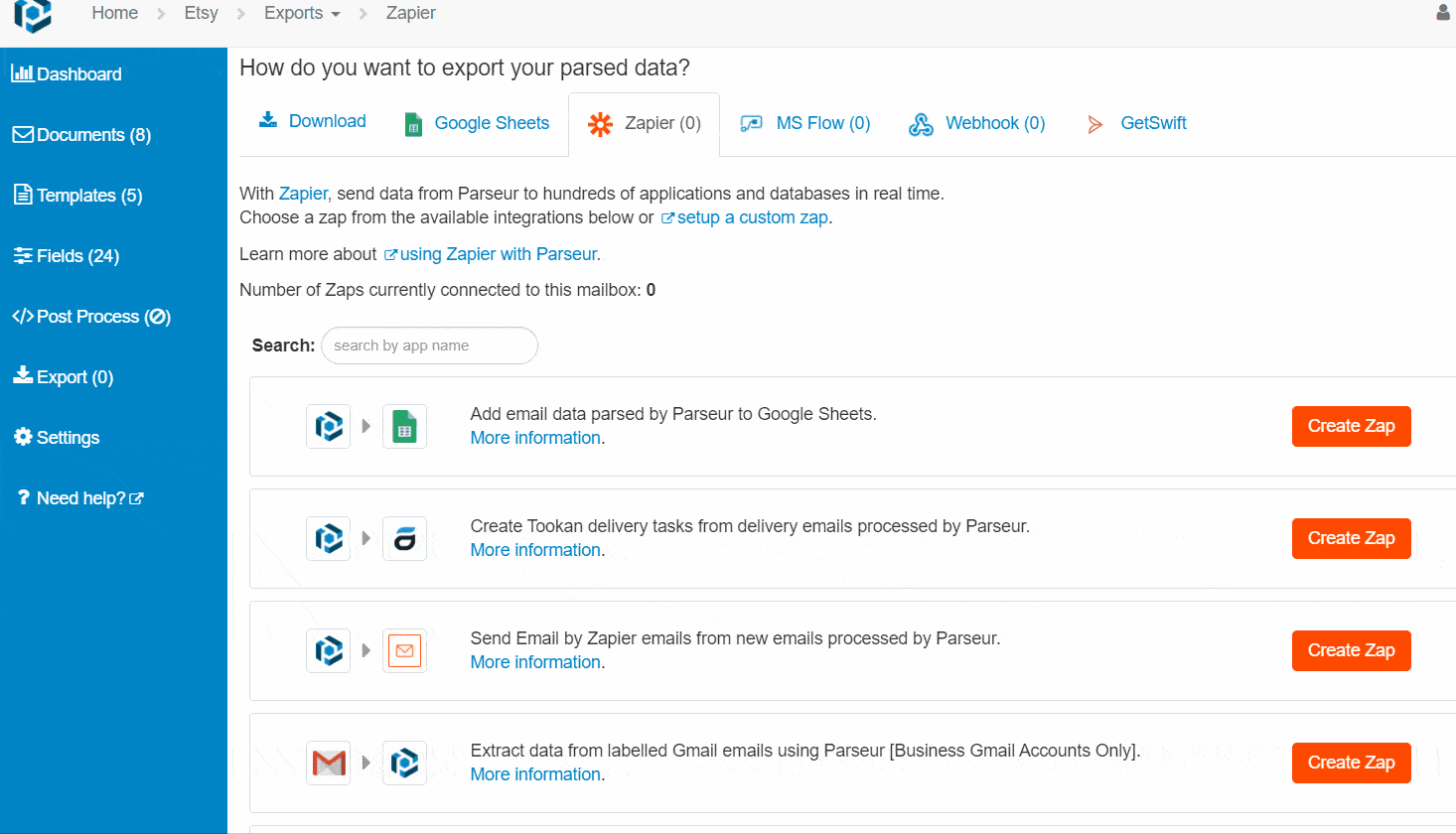 With simple clicks, you can say goodbye to all your manual and time consuming tasks!
Undoubtedly, the car sharing business is growing at a tremendous pace with emerging opportunities. Last year, the Car Sharing City Awards 2020 was held by the carsharing association in collaboration with Movmi to celebrate the cities and people who are indulging themselves in the carsharing ecosystem. It is a transformational shift in the transportation industry that will only rise in the coming years.