In previous articles, we detailed our step by step guide to extract your data automatically from Gmail and how to send Gmail emails from parsed data using Zapier.
In this article, we will show you how to save Gmail emails to a Google spreadsheet.
Let's take the use case of someone who has an e-commerce store that receives dozens of emails daily from customers ordering online. The e-commerce store offers home delivery as well for its products. As a business owner, once he receives sales orders or order confirmations in his Gmail, he has to make sure that the correct information (customer name, address, phone number, items bought, and prices) are being sent to his delivery team within the appropriate time frame.
Having a shared Google spreadsheet with his team will help get the information out more conveniently. However, the manual data entry process from extracting relevant data from his Gmail emails to copy-pasting them in a Spreadsheet takes time. And, in an e-commerce business, the delivery time is important to building and maintaining client relationships.
With Parseur, you can set up an automated workflow for this process. Parseur is a powerful email parsing tool that will automate both the data extraction from emails and exporting of parsed data as well. Parseur is a visual email parsing tool where you don't need to create any parsing rules for the texts that you want to extract.
How to save Gmail emails to Google sheets?
Parseur provides you with formulas within your mailbox to automatically send the data to a Google spreadsheet. The process is straightforward; all you have to do is click on "new spreadsheet" and copy the formula there.
You can also refine your table data depending on the types of email attachments that you parsed. For example, you might want to use the second formula if you have parsed PDF documents who have rows and tables.
For more information check out our support article about setting up your Email to Google Sheets integration.
Using Zapier to send your data to Google Sheets
By using the formula above, the data will be refreshed every hour or so.
If you need the parsed data adeed to your spreadsheet in real time, you can do so using Zapier. Zapier is a cloud automation tool that connects applications together to automate repetitive tasks.
In your Parseur mailbox, search for "google sheets" under Zapier.
When clicking on "create zap", you will be redirected to Zapier where you can sign in to your account or create a new one.
You will have to connect your Parseur account with Zapier and select the mailbox where the template has been created for the data extraction.
Zapier will launch a trigger to retrieve the parsed email data.
Each time a new email is processed by Parseur, it will create a new Google sheets row.
You will have to sign in to your Google account and choose the Google drive so that you can customize the data fields using the parsed data from Parseur.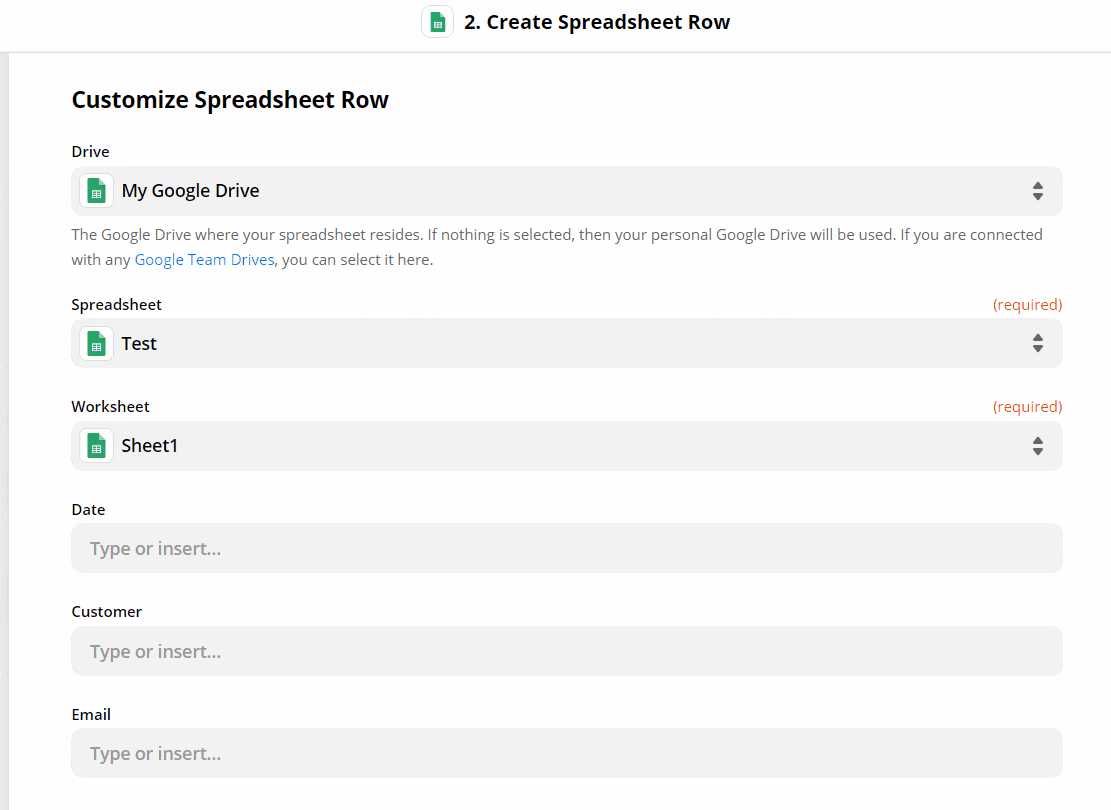 You can send a test from Zapier to check if everything is okay.
Turn the Zap on once you are satisfied with the test trigger!
Every email that you send to your Parseur mailbox will be automatically processed and exported to the Google spreadsheet in real-time.
For more information check out our support article about setting up your Zapier integration.