In this article, we will explain how Parseur can help you automatically export applicants of a LinkedIn job post to Excel, Google Sheets, or any HR application. For this to work, we will extract text from LinkedIn job application notifications received by email.
We will focus here on LinkedIn Job ads, but this article is applicable to any Job Ad board website that sends an email when a candidate applies to a job post, such as Indeed or CareerBuilder.
Tackling the challenges of LinkedIn job post
Adding a job post from your company on LinkedIn Talent Solutions is an excellent way to get extended visibility and attract the best candidates for a job. In fact, LinkedIn has the best and largest pool of high-quality referenced professionals in the world.
However, your job post may sometimes be a victim of its success as you may receive hundreds of applications for a single post. And that's a great problem to have!
So, you would like to export all those job applications into your tool. But how?
Manually tracking applicants? Bad idea.
Perhaps you are currently tracking applications manually, copying and pasting applicants' information into a tool like Excel.
This is not a workable solution for several reasons:
Time-intensive. Calculate the time spent manually tracking candidates multiplied by the number of candidates. You may be horrified by the result.
Costly. Multiply the time you spend manually tracking candidates by the cost of your HR team. It may be more than you are willing to spend on such a low added-value activity.
Error-prone. Have you ever missed an email or wrongly copied the data? You don't want your company to look bad, and often the first contact with a company is a deciding factor for an applicant.
What if you could automate the processing of LinkedIn job applications received by email for a fraction of the effort and cost you are currently spending?
Automate export of LinkedIn job applications: Parseur to the rescue
This is where Parseur can help. Parseur is an intelligent document processing tool to automate text extraction from emails. You can use Parseur to automatically process LinkedIn Job Applications emails.
Every time a candidate submits their application on your LinkedIn job post, you receive an email with a summary of the candidate's profile, experience, and contact information. That email contains all the information you need to manage your application pipeline.
Furthermore, Parseur comes with a powerful AI engine for job applications from LinkedIn and other platforms. The AI tool will process your emails immediately if it knows the format already.
How to extract text from job applications with Parseur?
Step 1: Create your free Parseur account
If you don't have an account already, create a Parseur account. Parseur is free to start with a limited number of emails sent per month.
Step 2: Create a job application mailbox to collect the LinkedIn job applications
When creating a mailbox, make sure to choose Job applications so that Parseur can easily identify the type of email.
Step 3: Forward your LinkedIn leads to your mailbox
Once your mailbox is created, Parseur provides you with an email address to forward your applications to.
Send a few emails to this address.
Important: For best results, we recommend you forward your emails from your original client email (Gmail, Yahoo, etc.) and not from your phone or desktop email client (Apple mail, Outlook, etc.). Even better, you should create forwarding rules to automatically send emails from your mailbox to your Parseur mailbox. Check out this page to learn how.
Step 4: Sit back and let our AI parser do its job
Simply list the specific fields that you want to extract and the AI engine will extract the data automatically. If Parseur recognizes the email, it will process the document automatically.
Here is an example of parsed data by Parseur with the original email.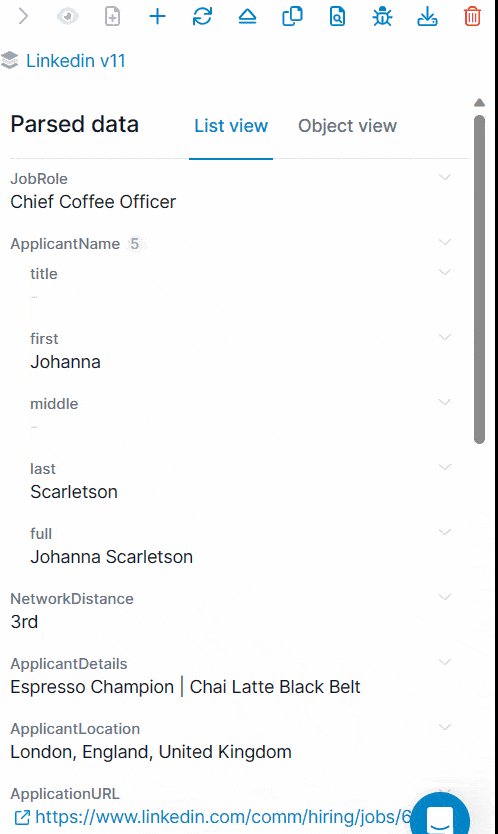 JobRole
Chief Coffee Officer
ApplicantName
Johanna Scarletson
ApplicantDetails
Espresso Champion | Chai Latte Black Belt
ApplicantLocation
London, England, United Kingdom
CurrentPosition
Growth Coffee Manager at Espresso Ltd. 2022 - Present
PastPosition

Coffee Consultant at Starbucks 2022 - 2022

Coffee Consultant at Rocket Espresso 2022 - 2022

Founder & CEO at Latte Moments 2015 - 2021

Education
Arabica University | Master of Coffee Administration - MBA, Coffee | Administration and Management, General 2021 - 2022 | Milano University | Master of Arts (MA), Creative Brewing 2013 - 2014 | National Institute of Fine Drinks | Bachelor of Coffeelogy, 2003 - 2007
ApplicationDetails
1 out of 1 preferred qualifications met
Received
2023-05-30T09:44:28.645837+00:00
Now, for every email you send, Parseur will automatically extract the information you asked for!
Step 5: Export your job application data to any applications of your choice
The last step is to decide where you want to export job application data to.
You have several options:
Download the data and open it in Excel
Download the data as a CSV and feed it to the application of your choice
Automatically export your data in Google Sheet: the spreadsheet will be automatically updated every time a new job application is received
Automatically export your data in real-time to the HR application of your choice like Zoho Recruit, Workable or Breezy HR using our Zapier integration
Export to your custom application through a webhook
Bonus: consolidate applications from different Job Ad websites
You may be posting your job applications on several websites: your company website, LinkedIn, Indeed, Craigslist, Glassdoor, Monster, etc.
And it can quickly become a nightmare to manage applications on different platforms.
Fortunately, with Parseur, you can create a template for each of these platforms inside the same mailbox. Parseur will automatically choose the template that is the most similar to the email you send (or ask you to create a new one if it doesn't recognize it).
With Parseur, you can easily consolidate job applications from different platforms into a single source of truth to manage all applications!
Frequently Asked Questions
What information does Parseur extract from job application emails?
Parseur will extract all information available on the email. It varies from one platform to the other, but most of the time, Parseur will be able to extract:
Job Post or Role name
Name
Location
Current title and position
Past title and position
Education
Disclaimer: LinkedIn no longer shares applicants' emails.
What if one of my emails is not recognized by Parseur?
You can create your custom templates to teach Parseur what to extract from those emails. It only takes a few minutes.
Learn about creating and managing templates in Parseur.
Where can I learn more about Parseur?
Click the link below to visit our homepage and learn more about Parseur.
Don't hesitate to contact us if you have any questions!