In this article, we will explain all you need to know about invoice data entry: what is it, why automate it and how Parseur can help.
What is invoice data entry?
Invoice data entry (or invoice processing, or invoice parsing) is the process of inputting invoice details in a system. Every company needs to do invoice processing. Most common reason is keeping their finance and accounting systems up to date with their expenses. Companies also need to do invoice data entry for tax declarations and audit trail purposes.
In many companies, invoice data entry still is a manual process. This is because suppliers invoices come in all shapes and forms, making automation difficult. But today, many suppliers send their invoices digitally by email to companies. Long gone is the time when you had to use expensive OCR (Optical Character Recognition) solutions on scanned invoices to do your data entry. Companies can now leverage document parser solutions like Parseur to automate and parse invoices.
Why automate invoice processing?
Manual invoice data entry takes a lot of time and effort. The effort to input an invoice in an accounting software can take up to a couple of minutes. Companies usually reduce this time by batching invoice processing (i.e. process them once in a day, a week, or a month depending on the volume). But with batching, they lose reactivity and also the process can lead to unwanted peaks of activity.
Moreover, mistakes and processing quality issues will happen when hand-keying invoices. Quality issues are solved by implementing spot checks (checks on a random pool of invoices). But that, of course, also costs time and effort.
Automating your invoice data entry process saves you a lot of your company's time while also improving processing quality and reliability. An automated workflow updates your systems in real time and reduces the spot checks to the minimum. Let your collaborators focus on your company's core business instead of spending time doing manual processing!
Why use Parseur for parsing invoices?
Parseur is a document parsing software. Use Parseur to extract data from invoices received as emails, PDFs, CSVs or other text-based attachments. If you often receive digital invoices from the same suppliers, Parseur will be perfect for invoice processing and transforming invoices into a row in an Excel or Google Spreadsheet.
In fact, our easy-to-use Template Editor adapts to all types of documents. It allows you to select the pieces of text you want to extract by a simple point & click interface. Once you've created a template for a particular format of invoice, all emails with the same format will automatically be transformed into data.
Parseur also supports extracting tables (i.e. content with a varying number of items from document to the next) which is a must have when processing invoice line items.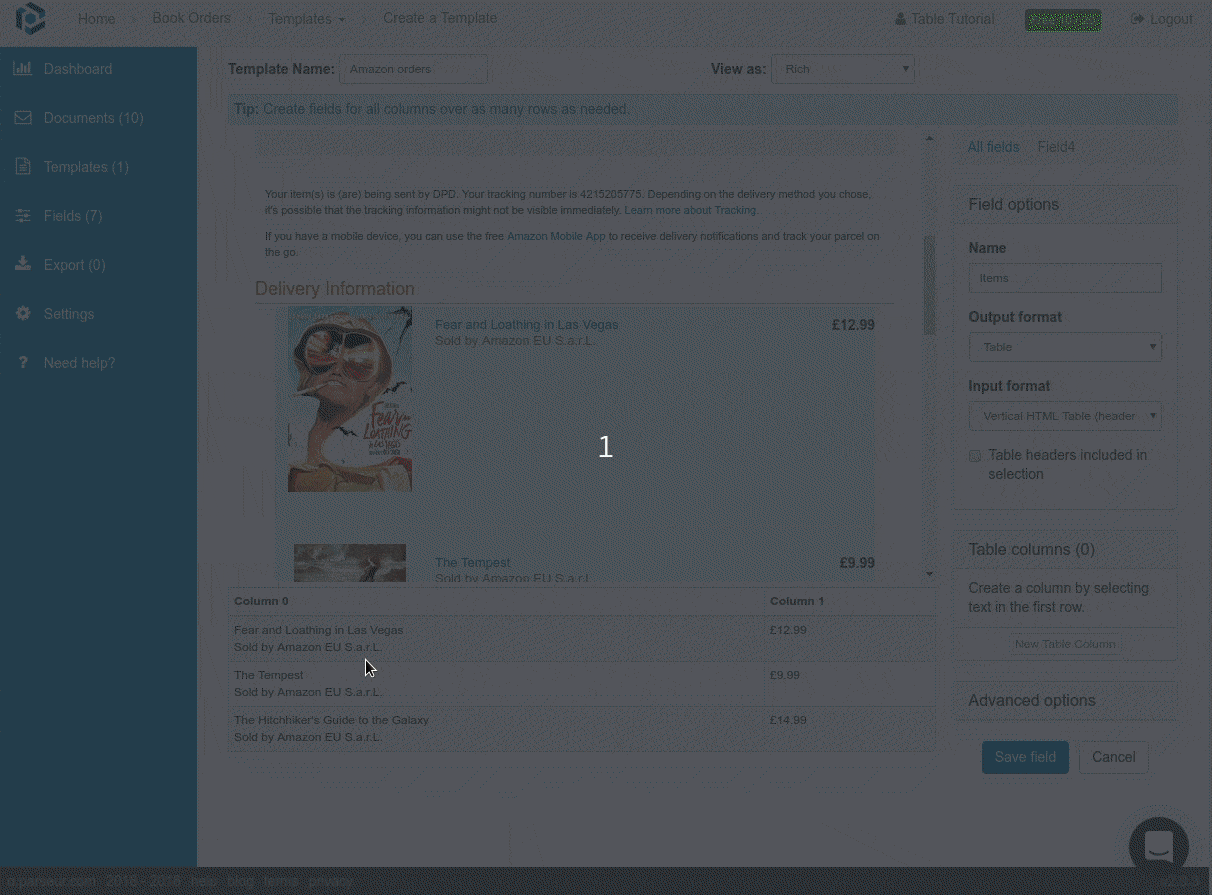 What fields to capture in an invoice?
Fields to capture will depend on your type of business and the local legislation.
The following fields are usually common on an invoice and you will want to capture them most of the times:
Invoice date
Invoice number (usually a unique sequential number identifying the invoice)
Supplier name
Supplier address
Customer name
Customer address
Line items containing a description and quantity of goods (or services rendered)
Price excluding Tax
Tax rate applied
Tax amount
Total price (including Tax)
The following fields are usually optional and you may or may not be required for your invoice processing:
Invoice due date
Supplier Tax identification number
Customer Tax identification number
Unit price of goods and services
Shipping address
Purchase order number (PO number)
Any other required legal mention;. Terms and Conditions, reference to applicable legislation, legal mentions related to type of invoice (Reverse charge, Margin Scheme, Self Billing etc.)
As mentioned, this list is not exhaustive and will depend on your local legislation regarding accounting practices. Contact an accountant if unsure.
How to automate invoice data entry with Parseur?
Creating your own invoice email parser with Parseur is easy:
If you don't already have one, create a Parseur account. It's free!
Once registered, create a new mailbox
Send or upload your first invoice sample to Parseur. Parseur supports most invoice formats, including emails and PDFs.
Then, create a new template to teach Parseur which invoice data-points to capture.
Optionally, setup automatic forwarding of your invoices to Parseur for more automation and reliability.
What's more, you can create as many templates as you need, Parseur will always pick the best one. So you can forward all your invoices to a single mailbox and let Parseur process consolidate and consolidate your invoices data in one repository.
Export your parsed invoice data
Now you have your mailbox up and running, you can send your data extracted from your documents wherever you want it to be:
In a live Google Sheet that will update every a new emails is processed by Parseur
In hundreds of accounting applications and CRMs through our integration with Zapier
To your custom application through a HTTP webhook
Example: extract data from amazon orders
In the following video, we describe how to create a template to extract data from amazon invoice emails.