Key takeaways
Manual data extraction from utility bills is not cost-effective.
A utility bill OCR like Parseur can help organizations save countless hours of manual data entry work.
Even though they are not the highlight of our day, utility bills are part of adulting, like avocado toasts. Whether you are an individual or part of a large enterprise, you must process utility bills.
If you've come to this article, I'm assuming you are looking for an intelligent solution for data extraction from utility bills. Keep reading; you're in good company!
Extracting utility bill data can feel like deciphering the Da Vinci Code. And who has time for that?
Utility bills come in different formats such as emails, paper, PDFs or flat files (CSV, XLSV), or XML. They are also unstructured data in various layouts.
Types of utility bills
Electricity bill
Water bill
Gas bill
Internet and phone bills
If you are a freelancer or a startup, going through all those bills won't take much time. But, as your business grows, so will your consumption resulting in more complex bills.
Utility bills are a cumbersome process
Imagine working for a company that has distributed offices and needs to settle utility bills with different Utility Service Providers. And you are in charge of this time-consuming process. The end of the month will not be so much fun for you!
It is stressful to go through all those bills and retrieve key information, especially with tight deadlines.
It is a lengthy process if the bills are in various formats.
The moment you make a mistake, you have to go back and redo the work.
It's boring! Imagine if you spent that time re-watching Friends.
Automating data extraction from utility bills is a lifesaver
Remember that feeling when you find extra fries at the bottom of your McDonald's bag? That's how you will feel with automation.
No more human errors: with an intelligent document processing tool, you'll get accurate utility bill data
Increase in business efficiency: the end of the month is usually the most stressful period for the accounting department. Having an automated process reduces the pressure on employees.
Can process large volumes of data within seconds
Meet Parseur: A utility bill AI tool
Like Batman swooping into Gotham, Parseur is the key to automating data extraction from utility bills.
Parseur is a leading AI-powered OCR that recognizes handwritten text or scanned characters and converts unstructured text into structured text with a high level of accuracy. Parseur is template-based and does not require any coding skills.
What can Parseur extract from utility bills?
Parseur can extract the following information:
Account number
GST number
Statement number
Customer details (name, address, phone number)
Usage (unit count, unit price)
Utility company
Tax amount
Total amount
How to extract data from utility bills?
Create an account on Parseur and choose the mailbox Utility Bills.
Upload the bills to the mailbox, or, you can also forward them to the given email address. You will notice that Parseur receives documents in their original format.
Data extraction done automatically
Parseur already has templates to process utility bills automatically. The AI engine will recognize the document type and extract data fields from it instantly.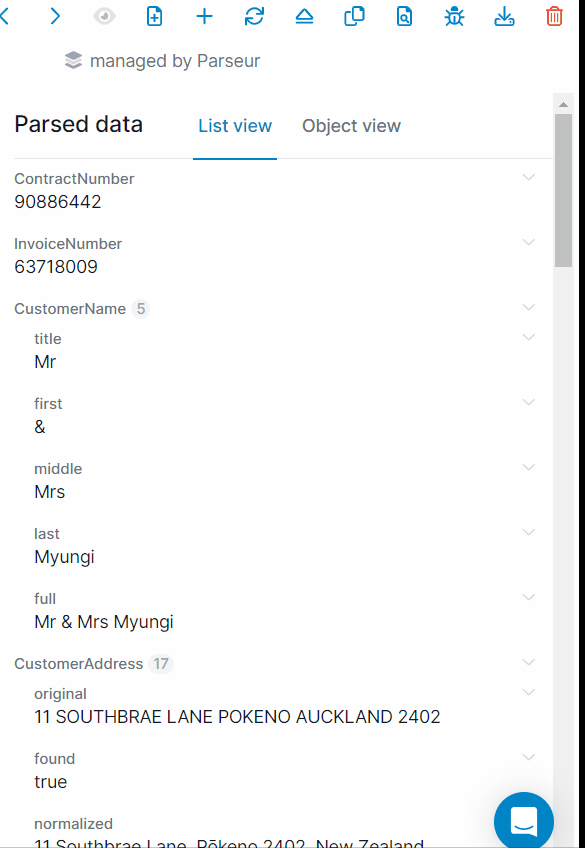 With Parseur, you also have the option to create custom templates and teach Parseur which data to extract.
Send utility bill data to Google Sheets or Zoho in real time
Parseur offers seamless integrations with other apps via Zapier, Power Automate or Make.
I found Parseur to be an excellent tool. I am integrating this with Azure Logic apps for automation of bill approvals and my experience was seamless. In comparison with other tools such as mailparser.io and parserr, I can safely say parseur is cleaner, more intuitive and developer friendly

—Shyam B., Novac Technology
Say goodbye to the painstaking manual process of utility bill data extraction
Next time you're staring at a confusing jumble of numbers on your utility bill, remember that there's a tool to do the heavy lifting for you.
No more wasting your precious time trying to make sense of the data hidden in those bills. Instead, we'll be sipping our coffee, lounging on our favorite chair, and smiling in satisfaction as Parseur effortlessly does all the work for you.