Are you a property owner or host who provides short term rentals or vacation rentals? Do you want to automate your property bookings so that you have more time to advertise your property?
Automation can streamline your processes and reduce human errors. This use case article will delve into how Parseur can automate data extraction from property bookings instantly.
The property booking market is growing
In March 2023, Booking.com recorded the most visits to its website, with 555 million visitors. With the pandemic, the travel industry suffered a huge reduction in bookings with regard to travel restrictions. But the industry has recovered with increased summer travel and the rise of digital nomads around the world.
89% of EU citizens book short-term rentals via booking platforms such as Airbnb or Booking.com.
In 2022, hosts earned up to $14,000 in supplemental income in the US.
What are the best vacation rental sites?
If you are a new host, choosing and listing your properties on the best rental sites is important so as to get the maximum reach and conversions.
Airbnb
VRBO
Booking.com
Expedia
TripAdvisor
Homestay
Agoda
Kayak
Those are the most popular ones and have the best reviews.
Do you receive (too) many booking confirmation emails?
If you've been a host for a while now, then you must have tons of booking confirmations landing into your inbox everyday. This is a good thing, of course! But going through those emails manually, retrieving key information, and adding it to a Google spreadsheet or CRM platform is time-consuming.
We believe that you'd rather focus your time and effort on implementing the best marketing strategies and improving the customer experience to attract more clients.
You can hire someone for this manual tasks, which will be an additional cost to your business and error-prone or you can opt for a cost-effective tool like an email parser.
Automating property bookings with Parseur
Parseur is a powerful email parsing tool that automates data extraction from emails and other documents. With Parseur, you can create an automated booking workflow from the moment you receive an email from VRBO (for example) until the data is sent to Google Sheets.
This whole process is easy to setup and requires zero coding knowledge. Parseur prides itself on template-based extraction which allows anyone to automate their manual tasks.
What booking platforms does Parseur support?
Parseur can extract data from those short-term rental sites, vacation rental platforms and hotel booking websites below.
Why use Parseur to automate your booking process?
Whether you are a property manager seeking to modernize your operation, or a host wanting to spend more time with clients and less time on data entry, Parseur can help you with that.
Time and cost efficiency
Time is something we can't get back. Spending time on manual data entry is tedious and boring. When you automate those tasks, there will be no human intervention and you can focus on other meaningful tasks.
Data accuracy
Unfortunately, you cannot avoid errors when processing data manually and double-checking requires more time. Parseur uses advanced algorithms to provide a high degree of accuracy.
Scalability
It's easier to grow your property business when you've invested in robust tech solutions that make your business run more efficiently. The future is already here and it's automation.
How to extract data from property bookings with Parseur?
In 3 simple steps, your property business can be 100% automated! Let's take a look at those steps in detail.
Step 1: Create a property booking mailbox
Parseur has a free plan with all the features available for a limited number of emails, and then you pay as you grow). Our pricing is much more affordable compared to other parsing software.
Once you've signed up for a Parseur account, choose the correct mailbox for your use case "property bookings".
Forward one of your emails to this Parseur mailbox. Create an auto-forwarding rule from your personal inbox to this one.
Step 2: Data extraction from property bookings is done automatically
Parseur has a built-in template to process emails from different booking platforms instantly.
You also have the option to create your own template and teach Parseur which data to extract. You can create unlimited templates and the email parser will always select the right template.
The parsed data will look like this: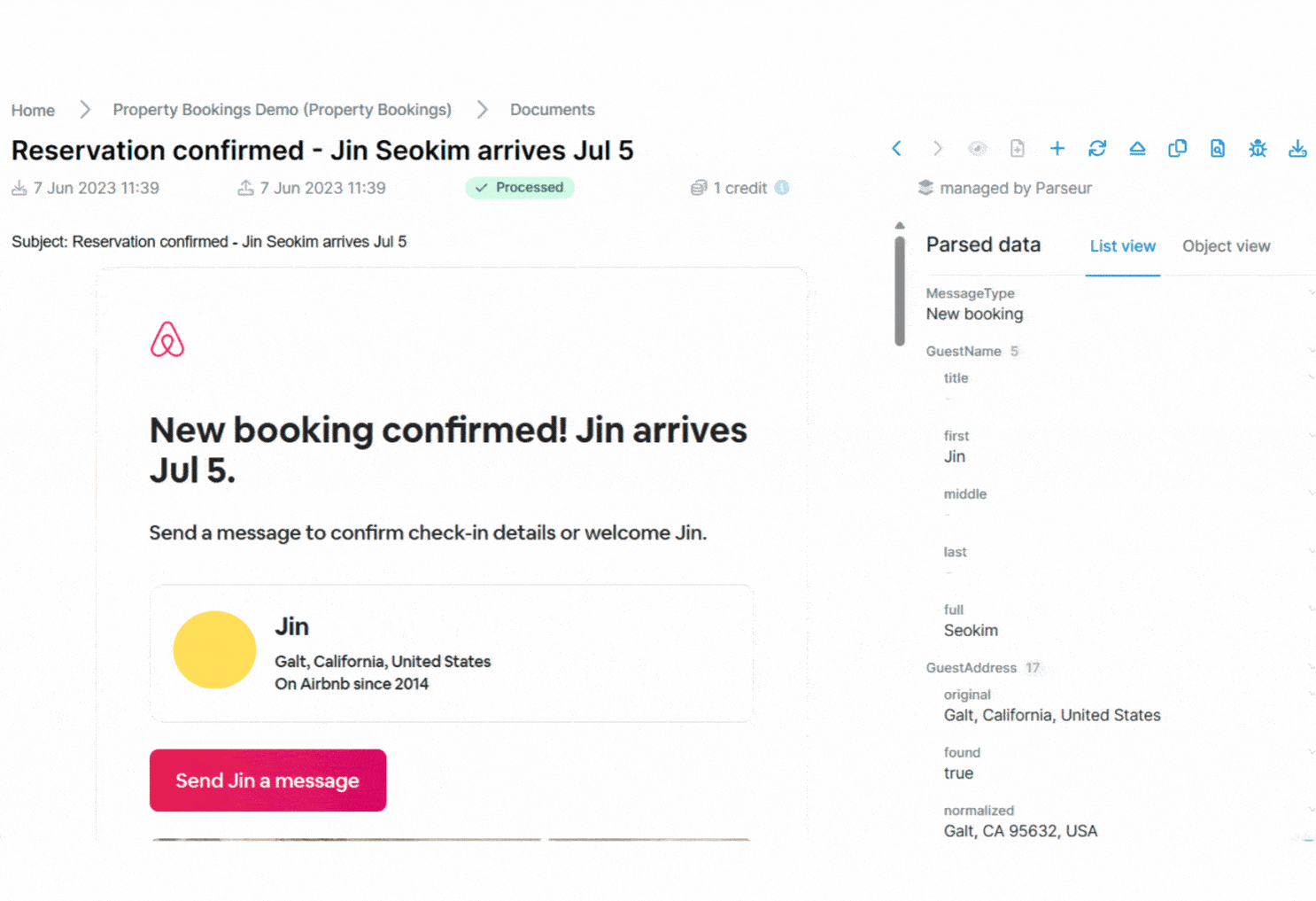 As you can see, Parseur can process emails in different languages and formats.
Step 3: Send the booking data to other applications
Your Parseur account has everything you need! There are different ways to use the parsed data:
Further reading