From a recent report published in Gartner, the robotic process automation (RPA) software has grown up to 62.9% (2019) in the market and is one of the fastest-growing segments in the technology market. The adoption of RPA has increased significantly by both big companies and small-medium enterprises.
What is Robotic Process Automation?
RPA, also known as software robots, is a form of business automation tool which handles repetitive and manual tasks. It is designed to automate manual work such as paper filing or copy-pasting so that people can focus their time and energy on high-value tasks. The end goal is to automate business processes.
Benefits of using RPA
Having automation software can help you scale your business in no time, no matter which industry or field you're in. The good thing is that you don't have to be technology-savvy or employ tech people to understand how RPA works.
How can RPA help with data extraction?
An RPA software for data extraction is cost-effective and simple to implement. All you need to do is build an automation workflow to extract information. One of the amazing abilities of robots is how they can effectively convert any digital text format into other data formats that can be easily edited. Basically, you need to teach and instruct the robots what they need to do, based on pre-determined criteria. Integrating robotic process automation into your company will ensure high efficiency in terms of data extraction workflows. It automates tedious and manual tasks
Let's say you have to extract specific data from an order confirmation or a sales order. Doing it manually can be time-consuming and human errors can occur, especially if you receive hundreds of emails with or without attachments on a daily basis. With RPA, tasks are completed more quickly, and effectively, thus, saving countless hours.
It reduces costs in business
With RPA, you can easily handle peaks of activity. For example, during busy periods such as Christmas, there is an increase in tasks that need to be delivered quickly for customer satisfaction. Instead of hiring more staff to complete them, an RPA software could do the work for you.
It allows you to focus on higher value-added tasks
Manual data entry extraction is a mundane task that can result in a turnover for those positions. With RPA by your side, your employees can focus on other aspects of your business, such as building and maintaining long-lasting relationships with customers
Increased Reactivity
The extracted data can also be exported to any applications of your choice using other RPA tools such as Zapier in real time, with zero human intervention.
Integrating robotic process automation in your company will ensure high efficiency in terms of data extraction workflows.
Parseur and RPA
Parseur is a powerful data parsing tool that automates text extraction from emails and other documents such as PDFs. The parsed data can then be downloaded or exported to any application of your choice using Zapier, Microsoft Flow, Webhooks, and Getswift.
Parseur is a robotic process automation tool that allows you to set up an automated data extraction pipeline. It guarantees reliable and accurate results. Having a data extraction tool at hand will help you scale your business as well.
You don't have to be well-versed in technology to implement an automation tool within your organization. With zero coding experience, you can use Parseur to extract thousands of documents in only 60 seconds!
Another proven example of RPA and Parseur is the case where Anne is selling goods on Amazon. At some point, her mailbox becomes full of orders from customers, and she has to manually extract specific information from those emails. Through Parseur, she can automate the whole process of table parsing and export the parsed data to a tracking spreadsheet. Using RPA for data extraction will ensure error-free results for your business.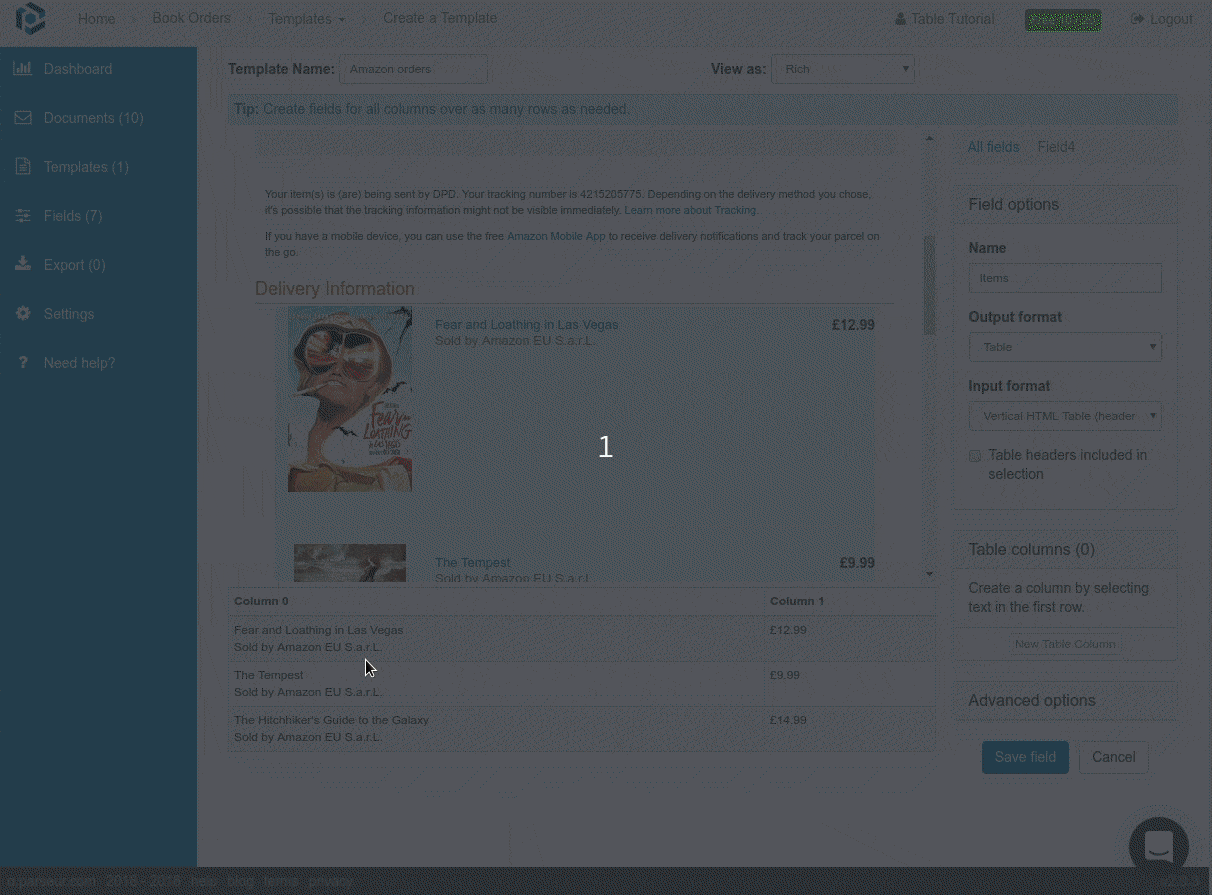 This is the superpower of RPA!