The core basis for any company to succeed is its ability to capture the right data correctly. Data can be anything; customer data, product data or data analysis for improvement. Needless to say, that data plays a significant role in any business.
It is essential for any company to always be up to date with recent data and thus, capturing those data quickly and effectively becomes primordial. This is where data capture comes into play to accelerate those business processes.
What is data capture?
Data capture is the process of extracting information from any type of documents or emails and converting it into a format readable by a computer. Documents come in different formats such as invoices, receipts, questionnaires, videos and images. Manually capturing data requires time, effort and resources. This is why there exists technologies based on machine learning and artificial intelligence which businesses can adopt to automate this process.
A recent press release from Future Market Insights claims that the market for enterprise data capture will experience a strong growth until 2029.
The best technologies used for data capture
There are many technologies involved in data capture automation but those mentioned below are the most commonly used ones.
"The future of scanning is intelligent capture" - TechReport, December 2021
OCR
Optical character recognition (OCR) is a technique used to read data from images, PDFs, scanned documents. OCR eliminates the need for manual data entry especially if a company needs to go through receipts or images in bulk.
"Did you know that OCR was first introduced in 1975 for visually impaired people by Ray Kurzweil?"
The industries where OCR is popular are banking, healthcare, and insurance. For example, in banks, OCR helps to extract data from checks and in hospitals, it would be for X-rays reports and hospital records.
ICR
Intelligent character recognition is an advanced OCR used to extract data from different handwritings. It is a software that can recognize different styles and fonts of handwritten texts, thus improving the accuracy of extracted data. To achieve this accuracy, ICR uses feature analysis together with pixel-based processing to recognize lines, line intersections, and closed loops.
Examples where ICR is used:
Bank statements
Timesheets
Invoices
Bills
Customer surveys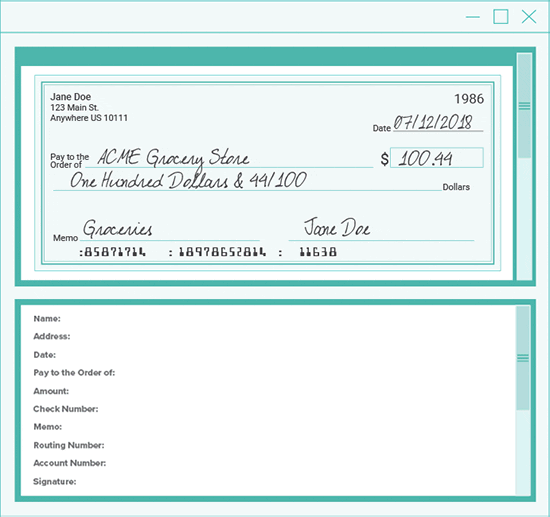 OMR
Optical mark recognition (OMR) also known as optical mark reading is the process of gathering information on exams papers, mark sheets, surveys, and other paper documents. It is a software application that is installed on computers. It will scan the documents by differentiating between marked and unmarked boxes. OMR software is very helpful in educational institutions and market research companies as it saves time and manual labor.
Barcodes
Barcode technology is the most common one which is found on goods and items. You can recognize it by black and white parallel lines. Barcodes help to identify products and track packages via computer software.
Those stripes actually represent data and numbers, making them easily readable by a scanning machine. Barcodes are heavily used in supermarkets, international orders and even to track payments in invoices.
According to a press release by Global Market Monitor (November 2021), the global barcode market will see a big move by 2027.
QR Code
QR codes are a type of two-dimensional (2D) barcodes which contain more information and can be read using smartphones. There are two types of QR codes: static and dynamic. You can link QR codes to a website, a social media site, WIFI passwords, or even email addresses. Restaurants are even using QR codes to avoid printing menus and thus moving away from paper.
"The Future of QR Codes is More QR Codes, With Restaurants Continuing to Lead the Way" - PYMTS.COM
Steps involved in document data capture
The process involves a series of steps that are implemented for data capture automation. We have outlined the five main steps below:
Needless to say that in order for the automated data capture process to start, documents have to be scanned first. Most data capture software allows you to scan documents in different formats such as PDFs, JPEG, XML.
Processing or capturing documents into readable formats
Once imported, the data capture solution processes the texts into a machine-readable format. For example, if there is an image, the software will automatically improve the quality of the image for a better resolution.
The third step is validating the documents by checking for pre-defined tolerances rules such as blurred characters or missing fields. They will then be forwarded for manual checks and verifications. It's an important step to ensure that the data is correct right from the start to avoid any errors along the way.
Documents are automatically sorted and indexed depending on specific criteria and filters. For example, purchase orders, receipts, contracts can be grouped under a specific document type. This intelligent document classification using machine learning saves time and staff no longer have to manually sort documents.
Data extraction and delivery
The process won't be complete without the data extraction. Important and specific information is then extracted by leveraging the technologies we mentioned above. Metadata are identified as well. The captured documents are then moved to a specific drive or folder where you can access them anytime.
At this stage, automated workflows are now set up between different applications.
Benefits of data capture automation
Integrating an electronic data capture tool in your business will yield exceptional results. With the best technologies involved, it provides any company with a competitive edge over other organizations in the digital space.
Since data are captured quickly and efficiently, it speeds up the process internally which in turn, increases customer satisfaction. There is less manual work to be done and thus, improving the performance of document processing.
Manual data processing is always prone to errors as there may be incomplete or missing data. With a document data capture solution, you can be sure that data will always be accurate. There is the data validation step in the process which performs checks which ensure that there are no inconsistencies.
For example, the software can verify whether information on a specific invoice matches the data from the supplier's records in the database.
According to an article by AI Multiple published in February 2021, the price of filing a document is $20 and if you have to reproduce a lost document, it amounts to $220. A data capture software eliminates the risk of unnecessary operational expenditures and thus, reducing the costs.
In addition to that, by reducing paperwork you are contributing to a paperless society and better environment!
Since there is increased document visibility and on the processes, fraudulent acts can be detected more easily. Also, documents are stored in a safe and secure online storage preventing loss of data compared to the traditional filing. Those documents can also be restricted to only a number of personnel in the organization.
Also, since all the documents are digitized and stored in an online repository, there is less need for physical storage and thus, it reduces space in an office.
Manually going through documents takes time which and sometimes, the process is delayed if employees are finding errors. An automated document capture system will help save time and reduce process latency. This can lead to an increase in the growth and scalability of the business.
Happy and satisfied employees
Eye damage, stress, and muscular problems are linked to manual data entry work. People employed in the data capture field experience fatigue and other health issues over time. It is tiring work which demotivates employees.
By integrating a data capture solution in your company, it allows employees to focus on other aspects, learn and grow more in their career path and thus, increasing productivity. Document data capture will help you streamline your business processes. You will have more time to focus on clients' and partners' relationships.
Sign up for our free plan
Having a powerful data entry automation software helps your business streamline its processes, saving countless hours of manual work.